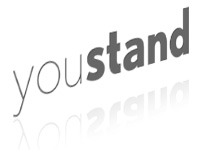 I am a Left Leaning Authoritarian — a person characterized as submissive to authority and who advocates significantly more government regulation, especially in economic behaviors. At least, that is how I have been classified by YouStand, a new social network formed around the notion that people like talking and networking with others of similar political, ideological and spiritual bent.
So, I am really a Left Leaning Authoritarian? No, reader, I am not — well not exactly — but I will explain in a bit why the site might believe that of me.
What I am is intrigued. If there is anything I love to do, it is sound off on politics and spiritual beliefs. Even so, I am well aware that the surest way to alienate friends, colleagues and relatives is by spouting political and spiritual beliefs that diverge from their own. A social network that groups people according to what they believe — just at face value — is something I want to investigate.
You Voted for Whom?!
The cofounder of the fledgling site, Rafael Cosentino, launched it with just these social media dynamics in mind.
"The top reason people get unfriended on Facebook is because they have expressed political opinions that did not agree with the person doing the unfriending," he told TechNewsWorld. "We definitely saw that with the last election, where the comments became particularly acidic."
Hence YouStand was born. The site is politically neutral, but savvy enough to steer liberals, conservatives, Democrats, Republicans, Libertarians, Socialists and Centrists into their separate corners. It does this by asking new members a series of questions to determine where they stand on certain issues.
Once the profile is complete, you can interact with your new and like-minded online friends. The various sections are seeded with articles aimed at the mindset of a particular group. There is also a platform to create a cause, similar to the way Change.org works.
For example, said Cosentino, someone recently created a cause calling for the state of New Jersey to stop profiting from issuing so many speeding tickets. So far, 5,700 people have supported it. There are tens of thousands of people registered on the site; when it reaches critical mass, it will launch more features — such as daily emails on activity, if the user wants.
Like-Minded Conversations
"There is definitely a role for a site like this in the social media universe," David Johnson, principal with Strategic Vision, told TechNewsWorld. "People are curious about where they stand in relation to other people on issues. Also, with politics moving more and more onto Facebook, people have become comfortable discussing these issues online."
It might be better to get the political discourse — at least the heated, partisan discourse — off mainstream sites and onto sites like YouStand, Johnson suggested.
"As a society, we are becoming more polarized politically. It used to be we sought out people with similar sports interests. Now it is politics — and it is not just social networking," he pointed out. "We are seeking out news and TV sources that conform to our worldview."
Check Your Label
Johnson took the test at YouStand and was labeled a Radical Conservative, a category he too found inaccurate.
"I would consider myself to be more a traditional conservative than a radical one," he said.
The problem, of course, is that social media are not sophisticated enough to parse out the nuances that contribute to each person's political and ideological makeup. I suspect I was labeled a submissive lefty because of a question that asked what I would do if I got a traffic ticket in the mail — tear it up or pay it? Well, I would pay it because, frankly, the way I drive I probably did run that yellow-turning-red light, and I don't want to deal with traffic court and a possible suspended license.
Still, I don't consider myself blindly compliant with any request that comes down the pike. Equally frustrating were other questions that would work better in essay format than either/or.
Private charity could easily replace government welfare — yes or no? Well in some cases yes, but define "easily" and what strings might be attached with this charity.
Or this one: For the most part, the free market allocates resources most efficiently. Well yes, but what about the distortions such as tax laws that make manufacturing or sourcing in particular locations less or more desirable?
In the end, it is best not to overthink these questions and answers too much.
"The groupings may not be exactly right," Cosentino acknowledged, "but the test does get you in the close vicinity of people with similar beliefs."