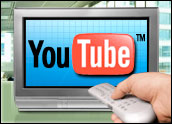 It is the rare political debate in which a winner is definitely declared. Sure, there have been a few in which candidates delivered zingers that resonated — or stung. The Carter Reagan debates ("Are you better off now than you were four years ago?") and the vice presidential debates between Dan Quayle and Lloyd Bentsen ("Senator, you're no Jack Kennedy") top the list.
Monday night's Democratic presidential debate, which was cohosted by YouTube and CNN, was typical in that no single candidate outshone the rest. It differed from other debates, though, in one respect: The venue was at least as important as the candidates.
Indeed, YouTube may be that debate rarity: a clear winner.
It is easy to understand why a viral video site has managed to set people's imaginations on fire. Its approach to political debate focused on questions that were posed by citizens, not journalists. Viewers were able to see videos of the people asking the questions — making them and their problems more real. CNN's Anderson Cooper asked follow-up questions of the candidates during the debate.
YouTube vs. the Establishment?
The beauty of this model, as YouTube and CNN would have it, is that real people finally get to question politicians about issues that affect their lives — not policy matters only of interest to those inside the Beltway.
Of course, there are critics who see the so-called innovation as more of the same, merely brushed with the patina of Web 2.0 technology.
"CNN's partnership with YouTube was a strategic positioning move that benefited CNN and YouTube far more than the candidates themselves," Neil Vineberg, president of Vineberg Communications, told TechNewsWorld.
"CNN reached youth, and YouTube went mainstream. They benefited more than the voters, because we saw the same candidates articulating the same messages, seeking to find points of differentiation and appeal to microsegments of voters."
YouTube's role as a shaper of public opinion was already ascending before it became involved in the debates, Eric Kuhn, founder of Kuhn & Consultants, told TechNewsWorld.
"The debate was really a feather in its cap. In truth, YouTube has been fueling the type of debate that happens virally — through e-mail, conversations at the water cooler or over the back fence." By giving a voice to everyday people, he said, YouTube has elevated the debate process.
Toe in the Water?
To be sure, even fans of the model saw room for improvement. Though real people articulated the questions, it was CNN that decided which ones would air, selecting them from thousands of entries. Some would argue that they sounded suspiciously similar to questions that might have been posed by, well, CNN.
"Two-way conversation is really what has been missing from the public discourse," said Claire Celsi, a new media expert at the Integer Group. "Next time, they should make the videos randomly selected."
Though last night's questions were not particularly pointed, they might be more incisive next time, assuming that YouTube's foray into political debates is just the first experiment with a model that's here to stay. It will likely be further developed as demand for one-on-one conversations grows among voters.
"Yes, last night the questions were tame — but don't forget we are in the infancy of Web 2.0 elections," David E. Johnson, CEO of Strategic Vision and a Republican consultant and strategist, told TechNewsWorld.
CNN may have been engaging in a bit of censorship, he suggested, either purposefully or subconsciously.
"A lot of the questions posed by the people might have been deemed too politically incorrect or too inflammatory," he said. For instance, he noted that there was no serious debate over immigration, even though it is one of the top issues in the Midwest, alongside the economy, taxes, terrorism and the war in Iraq.
Answering to the People
That said, anecdotal evidence suggests most viewers were pleased with the format.
The questions may not have been as confrontational as some would have liked, but they were more pointed than those a journalist might have posed, Ross K. Smith, director of debate at Wake Forest University, told TechNewsWorld.
"That is partly due to who was asking, why and how. It allowed the audience to identify more with the questioner." Also, he added, the YouTube model does not allow politicians to give non-answers to the questions very easily. "With a journalist asking the question, it is easy to ignore or refuse to answer. You can't do that with a member of the voting public."