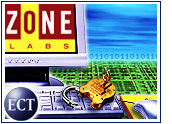 Security software developer Zone Labs announced IMsecure Pro, a security package that the company is calling the first comprehensive instant messaging (IM) security system for the most popular messaging services, such as AOL Instant Messenger, MSN Messenger and Yahoo Messenger.
IMsecure Pro is designed to ensure that IM conversations are private and secure, protecting PCs and personal information from spammers, identity thieves, hackers and predators who exploit vulnerable IM connections.
A recent study conducted for the National Cyber Security Alliance by America Online discovered that 86 percent of users store sensitive personal information, such as credit card numbers, bank account information and social security numbers on their PCs, making any unprotected PC an attractive target for hackers and online predators.
Highlighting this risk is the rapid growth of instant messaging for both personal and business use. Ferris Research predicts that instant messaging will grow from 54 million unique consumer users in 2002 to 341 million unique consumers in 2007.
"Instant messaging is quickly becoming a key communication tool, equal in importance to e-mail and the telephone," said Frederick Felman, vice president of marketing at Zone Labs.
Open PC Ports
By design, IM programs seek any open PC communications port to communicate, which can put individual PCs and any network to which they are connected at risk if the user has selected an IM security system that relies on traditional methods, including monitoring specific ports or IP addresses.
While the vendors that offer IM clients do regularly update them, the client protocols that they use are rarely changed. Because IMsecure Pro secures by protocol, it offers convenient protection for the most popular IM clients. Further underscoring the need for IM security, IM threats are evolving rapidly.
Gartner analysts recently identified instant messaging as one of the top 11 security issues for 2003, stating that the ubiquity of instant messaging is creating worrisome holes in security.
IM protocols and applications make them inherently vulnerable to traditional hacking exploits, such as scripting and buffer overflows. Additionally, IM users are often tricked through IM-based spam to visit harmful Web sites or accept virus-laden file transfers.
IMsecure Pro's combination of both inbound and outbound threat protection is designed to reduce exposure to malicious software — sometimes called malware — as well as to eavesdropping, impersonation and theft of personal information, intellectual property and other confidential data stored on the PC.
Major Messengers
IMsecure Pro secures the three most popular IM services — AOL Instant Messenger, MSN Messenger and Yahoo Messenger — which carry the majority of IM traffic. In addition, IMsecure Pro also secures the most popular third-party clients, such as Trillian, EasyMessage, Imici and Meca.
With preconfigured default settings, IMsecure Pro offers protection right out of the box. A security log records IM security events as they occur and displays them in a configurable view so users are aware of IM-related security events that occur on their PCs and can take follow-up actions, if necessary.
IMsecure Pro follows Zone Labs' "guilty until proven innocent" security philosophy — which is to protect against both known and unknown IM vulnerabilities. It guards the PC from infiltration by hackers introducing malicious code through invalid messages, buffer overflow attacks or dangerous IM-borne scripts.
Specific Features
The software includes several specific features, including ID Lock, which is designed to prevent users from inadvertently sending out personal information — such as a social security number, bank account or credit card information. This feature could be especially useful for families who wish to ensure that their children do not share sensitive information, like their home or school address, to strangers.
In addition, the message-encryption feature protects IM traffic from being intercepted and read by others so that IM conversations remain private and free from monitoring. IMsecure Pro encrypts IM communication between any two IMsecure Pro-protected client programs that are communicating via the same service — such as a Yahoo Messenger user communicating with a Trillian user over Yahoo.
The IM Lock feature provides granular control over IM in the case of misuse, allowing the instant shut down of any or all IM communications in or out of the PC. In addition, the software's feature control lets users block specific IM capabilities, including file transfers, voice or video, conserving bandwidth as well as preventing users from unwittingly revealing too much about themselves to strangers.
Free Security Lite
In keeping with Zone Labs' philosophy that basic security should be free, the company also announced the availability of a basic IM security product, called simply IMsecure. The free software offers simple inbound threat protection from buffer overflow attacks as well as message encryption for one IM account to protect instant messages from being monitored.
IMsecure is free for personal and nonprofit use. IMsecure Pro 1.0 is available for purchase and download from the Zone Labs site for $19.95, including one year of security updates. A 15-day trial version of IMsecure Pro also is available on the Zone Labs site.
Founded in 1997, Zone Labs is a private company headquartered in San Francisco, California, with European headquarters in Frankfurt, Germany.