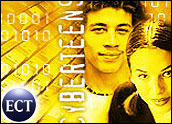 More than half of all American teenagers network online, according to new research conducted by the Pew Internet & American Life Project.
In growing numbers, teenagers are using the Internet to form and maintain friendships, network and get advice and information about nearly any subject, according to the report.
That figure may even be understated. "Just as a guess I would put that number closer to 75 percent to 80 percent," Dr. Gilda Carle, the former Love Doc on MTV Online and author of Teen Talk with Dr Gilda, told TechNewsWorld.
When accounting for teenagers who do not have access to computers or the Internet, the nationwide figure is probably lower, Carle added.
Meeting and Greeting
Fifty-five percent of online teens have created a personal profile online, and 55 percent have used social networking sites such as MySpace or Facebook, the Pew survey found.
Not quite half of U.S. teens, 48 percent, visit social networking Web sites daily or more often. Twenty-six percent visitonce a day and 22 percent log on repeatedly during the day.
The survey breaks usage into demographic groups, although in general females are the most avid users of social networking sites and are more likely to have posted a profile online. Older girls, aged 15 to 17, are more likely to have used a social networking site, compared with 54 percent of older boys; 70 percent of these girls have created a site, compared with 57 percent of older boys.
Thirty-seven percent of younger adolescents, between 12 and 13 years old, say they have created an online profile, whereas 63 percent of teens between the ages of 14 and 17 have posted a profile.
The vast majority of respondents, 91 percent, say they use these sites to stay in touch with friends.
Networking for Information
Teenagers are also using the Internet to find answers to sensitive questions that they may feel uncomfortable speaking about in person to someone they know, Carle said.
"I've had teenagers ask me how to handle abusive relationships or how to handle bullying in school," she explained.
The Internet provides youths with a tremendous advantage over previous generations because of the wealth of information available and the ease of reaching out, she said.
"For instance, I am seeing so many teenage boys ask questions about relationship problems that they wouldn't ordinarily ask in person," remarked Carle.
The downside is that the Internet is also a magnet for sexual predators, she added. "These kids don't necessarily know ifsomeone is a legitimate source of help or a pervert trying to get close to them online."