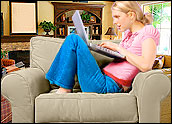 Imagine a completely networked home — a smart home, if you will — in which every appliance has its own Internet address and can be remotely managed from anywhere on the Internet with a simple Web browser. Did you forget to turn off the coffee pot before you left for work? Simply log on to your home's network and shut it off remotely.
A few years ago, only small startups and leading-edge visionaries, like Neil Gershenfeld, director of MIT's Center for Bits and Atoms, and Nicholas Negroponte, author of Being Digital, were promoting the idea of smart homes. But today, mainstream homebuilders, local home-networking integrators and even home-furnishings suppliers, such as Sears, are offering goods and services to smarten up your living space.
For some, the move to a smart home might only consist of controlling a few lights remotely, perhaps using the fairly common X10 technology. For others, security might be the central application. Still others might choose to install advanced controllers or use a voice-recognition system to control their home.
Adding home automation to an existing dwelling has become surprisingly affordable and simple. And the smart-home market is beginning to take off, with local providers and Internet sales sites popping up everywhere. Even major retailers like CompUSA and Best Buy are getting into the action.
Home Smart Home
The general goal of the smart-home movement is to use networking technology to integrate the devices, appliances and services found in homes so that the entire domestic living space can be controlled centrally or remotely.
This kind of centralized management will allow our domestic appliances and services to communicate with each other and make electronic decisions on our behalf — such as selecting TV programs, suggesting which groceries to buy, monitoring and managing energy consumption for optimum efficiency, controlling environmental conditions, and delivering news and information to us wherever we are and whenever we need it.
For example, in a truly smart home, your refrigerator would know what it contained and would be able to communicate that information to you. You might even be able to telephone your refrigerator — or send it an e-mail — to find out what food to buy on the way home from work.
Once home, you could take ingredients out of the refrigerator and set them on a kitchen counter that could read the chips embedded in the food packaging. Your home's computer then would verbally suggest a few recipes to match the ingredients you had chosen. Pick one of the recipes, and your home computer would instantly project it onto the surface of the counter in front of you.
Internet Refrigerator?
While some of these technologies might seem far-fetched, many companies have already introduced them into the market. For example, two years ago, South Korea's LG Electronics made big news with an Internet-ready refrigerator designed to give users the ability to surf the Web from the kitchen.
The result of a US$49.2 million project staffed by a team of 55 researchers, the company's Internet Digital DIOS Refrigerator features two prominent 15-inch LCD displays on its front panels, one on each of the two main doors. Through these panels, you can access a range of high-tech features, such as a database of real-time grocery prices, health and nutrition tips, cooking information and also, if users first tell the refrigerator what goods are being stored inside, alerts about expiration dates.
LG started selling the refrigerator for $8,850. While several manufacturers have shown prototypes of such kitchen appliances, this is the first time a major electronics maker has commercialized an Internet refrigerator. The company said it has submitted applications for 75 patents both in and out of Korea as a result of the project.
Structured Wiring
A study by Parks Associates, a Dallas, Texas-based research consultancy, estimates that about 20 percent of new homes built in 2002 contained some sort of structured wiring for computer networking, entertainment or related uses.
The study found that high-speed Internet access around the house ranks as the most pressing reason for wiring, followed closely by monitored security systems and, lastly, by the ability to play music from one stereo system in several rooms simultaneously.
Home Director, an IBM spin-off backed by Cisco and Motorola, exclusively sells home-networking products to home builders. For the past several quarters, the company has demonstrated increasing revenue, most recently reporting quarterly sales above $2 million.
"We continue to focus on revenue growth and have recently begun to capitalize on the many opportunities available in providing home-networking solutions to our builder-clients," said Don Witmer, Home Director's chairman and CEO.
For example, Home Director's Network Connection Center integrates voice, video, data, services and devices into a single network. This high-speed connection, usually delivered to a single personal computer, is available everywhere in the home and can be simultaneously shared with other computers and Internet-enabled devices around the home.
Smart Infrastructure
Home developers, such as Pulte and Centex, seem to be leading this adoption trend. The wiring they are installing typically adds several thousand dollars to the cost of a new home, and it is usually Ethernet or coaxial cable — or some combination of both — with other technologies in the mix.
Other developers are working with public utilities to bring the networked home to whole cities, not just to new neighborhoods. Echelon, creator of the LonWorks networking platform for linking everyday devices to each other and to the Internet, has indicated it is working with Continuon Netbeheer, a Dutch utility grid operator and subsidiary of Dutch utility Nuon, to examine deployment of Echelon's networking system in The Netherlands. The network is being designed to make possible remote operation of appliances connected to the network.
Other technology developers are generating buzz in this area as well. In June, at the Bluetooth World Congress, vendors were touting the expansion of wireless networking technology into everything from air conditioners to cable television boxes.
"Bluetooth was originally developed as a wireless technology — primarily for short-range exchange of data between laptops, PDAs and mobile phones," said Nick Hunn, managing director at TDK Systems, whose Blu2i adapters are being used in such home applications. But, he noted, when early adapters were released to industrial engineers at the end of 2002, "demand soon proved overwhelming."
Future Connections
At 2Wire's R&D laboratory, researchers are currently developing wireless applications to control lighting and home security devices, Lucy Allen, 2Wire's spokesperson, told TechNewsWorld. Wireless home entertainment devices are next on the agenda at the lab, she said.
"2Wire is currently working on a way to make WiFi reach farther and even work through walls. Basically, it will eliminate WiFi cold spots," said Allen.
Purveyors of DSL and other home-broadband technologies likely will drive these smart-home applications, particularly as broadband companies compete to turn old homes into smart homes. "SBC and BellSouth both sell 2Wire's gateway for this reason," Allen noted.
Back in 2000, when MIT's Gershenfeld wrote the book When Things Start to Think, these kinds of home-networking technologies were a far cry from being mainstream. But now, to paraphrase Gershenfeld, computing has become more for people than for computers, even if your coffee pot doesn't have an IP address yet.