Against the backdrop of the IFA 2013 trade show in Berlin on Monday, Acer introduced its new Liquid S2 smartphone, a 6-inch full HD handset capable of capturing 4K video.
The Liquid S2 has the distinction of being the first smartphone with officially announced 4K Ultra HD recording capability. To support that high-resolution video, its 6-inch screen offers full HD with IPS technology and 1080p resolution.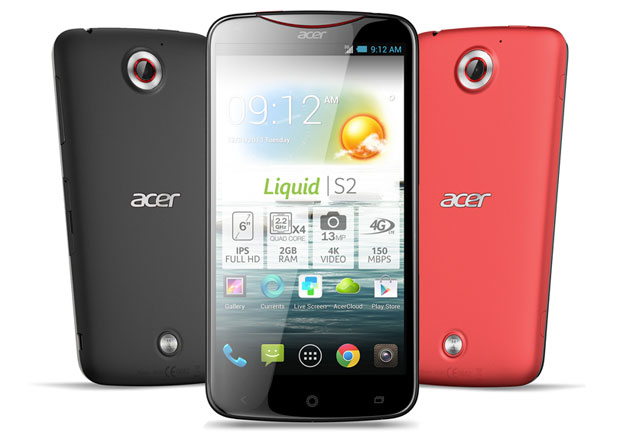 The Android phablet will run on 4G LTE networks and operate on the WiFi 802.11 ac standard. It also boasts dual speakers powered by Dolby Digital Plus.
Gorilla Glass 3.0 from Corning provides a scratch- and shatter-resistant curved screen that creates an edgeless feel around the rim of the smartphone. Its Zero Air Gap Display, meanwhile, removes air between the touch panel and the LCD module to improve the touchscreen function and make the screen more readable in sunlight.
Acer will release the Liquid S2 smartphone in Europe in the middle to end of October. While the company has not finalized deals with carriers, Acer currently sells smartphones in Germany, France, the UK, Russia, Italy, Spain and the Ukraine, and expects to distribute the Liquid S2 to most of that footprint.
The U.S. market might never see the Acer Liquid S2, or at least not until after other markets get the release. Acer currently does not sell smartphones in the U.S. market, Acer spokesperson Erin Davern told TechNewsWorld.
Phabulous Phablet
Phablets have recently overtaken both tablets and portable PCs in terms of shipments in Asia, IDC recently reported, but appeal in the U.S. is still limited.
"I think there is always a market for certain screen sizes," Manuel Linnig, spokesperson at Acer Europe, told TechNewsWorld. "If you look at Asia right now, there is a trend for big phones. In the U.S. and Europe, people say, 'I like it, but it's too big.' It's still in this gray area."
The category has been popularized by handset models such as the Samsung Galaxy S4, Sony Xperia Z Ultra and LG Optimus G Pro.
"Phablets are going to have their uses, but we are still looking quite hard for them," said Roger Entner, principal analyst at Recon Analytics.
Ultra HD 4K Video
The Acer Liquid S2 is capable of capturing 4K video, also known as Ultra HD. While the details state that the phablet has a full HD screen, it's not yet clear whether the screen resolution matches the video capture capabilities. Full HD is typically 1080p, which is 1920 x 1080.
"If you're able to capture 4K video, what good is it if you can't see 4K video?" noted Carrie Sylvester, an analyst in the Consumer and Professional Imaging Group at InfoTrends.
4K is not widely available and therefore requires a larger investment — such as an Ultra HD 4K television — in order to view those high resolutions.
"If you want to watch video in 4K, you have to transfer or connect with a screen with 4K," said Linnig. "Of course, you can always watch [on the Liquid S2] in full HD."
Currently, "there are only a handful of 4K TV sets or monitors available," Entner told TechNewsWorld. "So going 4K video capturing is certainly ahead of its time. Also, what is the point? We are going beyond the capabilities of the eye to perceive differences."
'Out of Their Radar'
4K technology is still making its way to the mainstream, with just slow pickup among early adopters at this point.
"I can tell you that 4K isn't on the radar screen of most photographers or professional photographers right now," Sylvester told TechNewsWorld. "A lot of them don't know much about it unless they're tech-savvy and tend to be early adopters of technology. 4K is just a little out of their radar."
Cinematographers, in fact, may be the first to take advantage of the new capabilities.
"I think this will first appeal to cinematographers — people who need that high-end capture and viewing," Sylvester suggested. "I think it's going to take a while before it starts to reach the masses."
Toward that end, Acer and other consumer electronics companies will have to educate consumers on 4K technology.
"It's going to take a lot of education and evangelism on the part of the vendors," said Sylvester. "They have to tell people what this is and why you need it."
Why would Acer make a phablet handset with 4K video capture capabilities at this point? The same reason LG upped the resolution on its forthcoming Quad HD smartphone panel — to establish a market lead.
"Acer wants to show technology leadership," said Entner. "Even if it's beyond what really matters."