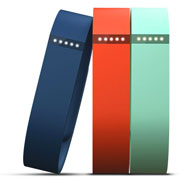 Fitbit only just released its firstfitness-tracking wristband back in May, but the company is reportedly getting close to rolling out the next generation. Dubbed "Force," this new device will apparently be both smaller and more capable than the current Flex.
Among several new features expected in the upcoming device are a built-in altimeter and watch functionality, according to a report on The Verge, which also suggested that the device will be partially water-resistant and feature a greatly improved display.
Fitbit will reportedly sell the Force for US$130 — $30 more than the Flex's price.
Fitbit did not respond to our request to comment for this story.
A Threefold Increase
The market for sports and fitness monitors is forecast to exceed a cumulative 250 million units over the next five years, according to a report released by IHS iSuppli in May.
While the fitness monitor market encompasses a number of products including fitness and heart rate monitors, sports and running computers, outdoor pursuit computers, cycle computers, activity monitors and pedometers, activity monitors represent a growing category.
Also including products such as the Nike+ FuelBand and monitors from Adidas, Under Armour, Fitbug, BodyMedia and Jawbone, the segment could experience a threefold increase over the next five years, according to IHS iSupply division InMedica.
'A Useful Accessory'
One new key feature expected in the Force is a dedicated digital readout that displays the time except when monitor stats are being displayed; a button will toggle between the two. On the Flex, users tap the monitor to enable functions, with a limited display capability.
"The new Fitbit Force will be a simpler approach to get your information on the spot, similar to my Garmin 405, which I wear running," Jim Lynch, author of One Foot in Front of the Other, told TechNewsWorld.
With the built-in altimeter, meanwhile, the device will be able to sense how many floors or flights of stairs a user has traversed in a day.
"An altimeter would be interesting to cyclists, particularly, and also runners," noted Steve Blum, principal analyst at Tellus Venture Associates. "Bundling it with sports watch functions makes it a useful accessory."
Will the extra functionality convince users to pay the Force's higher price?
"Well, I just spent $100 for the Flex and will probably wait to upgrade since $130 is quite steep," Lynch said. "Even though it has some nice features, I can still save the dollars and just sync my Flex. It would be nice if they would offer a trade-in discount for their existing customers — then I might be persuaded."
'A Lot of Running Room'
Of course, also competing with wrist monitors is more sophisticated sports tracking gear such as heart rate monitors and GPS-enabled devices.
"The Force doesn't look like the ultimate sports and fitness watch yet," Blum told TechNewsWorld. "For that, it would need GPS and heart rate capability, at a minimum. But that's a size and a power problem, and the Force seems well-positioned within that trade space."
In short, "Fitbit appears to be on a promising development path," Blum concluded. "Successful new products start out by addressing an existing need, and then build on it. If Fitbit can move into the sports watch space, it will have a lot of running room."