After considerable delay and a significant redesign, Wikipad on Tuesday announced that it will release its long-awaited namesake gaming tablet on June 11 at a price of US$249. A global launch is planned for this summer.
Featuring a capacitive, multitouch 7-inch screen, the new tablet runs Android 4.1 Jelly Bean and slips into a cradle that adds digital and analog controls to make the Wikipad 7 a full-fledged game device.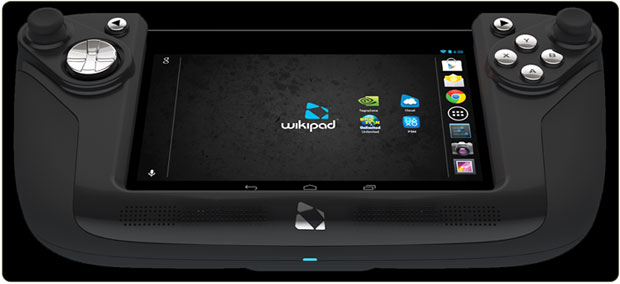 Wikipad
It has a larger screen than one would normally see on a handheld gaming device. Further adding to its muscle is an Nvidia Tegra 3 mobile processor with a quad-core CPU and fifth battery-saver core.
The Wikipad also has a high-performance 12-core Nvidia GPU under the hood, along with 16 GB of memory and an additional microSD slot to support a further 32 GB of storage. The tablet offers dual-band WiFi (802.11 a/b/g/n) and Bluetooth 4.0 support for connectivity.
Next week's release of the Wikipad will coincide with E3, the video game industry trade show that will take place in Los Angeles.
Hard-Core Appeal
The Wikipad offers much more to gamers than the typical tablet. The game controller cradle gives the pad an analog stick as well as digital controls for games. This is in addition to the multitouch control that's in line with most tablets, which provides five-point multitouch functionality, meaning that several fingers can be put into use to control actions in a game.
"It's a portable gaming tablet," independent industry analyst Billy Pidgeon told the E-Commerce Times. "So, ostensibly it will appeal to hard-core gamers. Nobody's going to get this to play Candy Crush or Bejeweled."
Vying for the same niche is the Shield, another Android-based gaming tablet, which is expected from Nvidia later this month. The Shield is based on Nvidia's Tegra 4 chip.
The Wikipad also has to compete with console systems for hard-core gamers' dollars. Next week, both Sony and Microsoft are expected to release details on their competing consoles expected in time for the holidays.
Broad Compatibility
Despite the competition, it is possible that a certain gaming demographic will line up to purchase the Wikipad.
"There are more and more hard-core gamers out there who happen to be adults with families and working professionals," Scott Steinberg, principal analyst for TechSavvy Global, told the E-Commerce Times. "Many are migrating to tablets. It makes perfect sense that as people gravitate to tablets, they allow more mature options."
Of course, when a new console or handheld system is released, manufacturers often work with developers to create games for the system. In the case of an Android-based tablet such as the Wikipad, however, the device's maker can lean on all the many existing game catalogs on Google Play to prop the system up.
Wikipad will be compatible with games and other apps on Google Play, PlayStation Mobile games from Sony Computer Entertainment, and games on TegraZone, Nvidia's free app built to support its Tegra processor.
"In terms of the traditional console game experience, smartphones and tablet games have existed for years, and their tastes have matured," said Steinberg. "More advanced controls should be well-received."
The Multitouch Factor
It's not yet clear how well games built for a multitouch screen will translate to digital and analog controls.
"Gamers are used to the controller input," said Pidgeon. "There are a couple of first-person games that are designed for tablets with multitouch, but still people are used to using controllers, and PC people are used to using a mouse and keyboard."
One unknown is how well the games will adapt from multitouch control to buttons and joysticks.
"That remains to be seen," Pidgeon said. "It should be fairly straightforward to switch to a control interface, but that could be an issue."
Wikipad owners may find that they use the tablet more outside of its controller cradle unless games are made specifically for the system.
"It's not something that game developers are necessarily designing for, because it's such a rare instance," Pidgeon explained.
No Rear-Facing Camera
The Wikipad was originally slated for release last October, but a manufacturing difficulty sent the company back to the drawing board.
The Wikipad was then slimmed down from a 10-inch screen to a more usable 7-inch size.
While the tablet does have a 2-megapixel front-facing camera, another key change made during the redesign was to eliminate its rear-facing camera. Such a camera may have facilitated multiscreen applications — like using the Wikipad as a controller for a console, or playing a game that reacts to activity on the television screen.
"That could be an issue with some of the multiscreens," said Pidgeon. "It may be OK. Multiscreen gaming is a bit down the road."