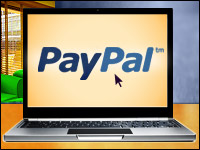 It was once virtually unthinkable for a company to operate on a global scale, but if a recent move by PayPal is any indication, this small planet of ours may soon be just the beginning.
In fact, PayPal on Thursday announced the launch of PayPal Galactic, an initiative that's designed to address the upcoming need for universal payments from space. Conceived with leaders in the scientific community including the SETI Institute and the Space Tourism Society, PayPal Galactic aims to handle financial transactions for astronauts, space travelers and tourists.
"Trips to Mars, the moon, even orbit will require we provide astronauts and astro-tourists with as many comforts from home as possible, including how to pay each other," said astronaut and author Buzz Aldrin, who participated in the announcement. "Whether it's paying a bill, even helping a family member on Earth, we'll need access to money.
"I think humans will reach Mars, and I would like to see it happen in my lifetime," Aldrin added. "When that happens, I won't be surprised if people use PayPal Galactic for the little things and the big ones."
A 'Cash-Free Interplanetary Society'
Questions to be addressed by the new PayPal Galactic initiative include:
What will our standard currency look like in a truly cash-free interplanetary society?
How will the banking systems have to adapt?
How will risk and fraud management systems need to evolve?
What regulations will we have to conform with?
How will our customer support need to develop?
While many of the questions are forward-looking, others — focusing on security and regulation, for example — are also relevant to transactions on Earth today.
PayPal's partners include not just the SETI Institute and the Space Tourism Society but also crowdfunding site FundRazr.
Neither PayPal nor SETI respondedtoour request for further details.
The 'Cool Factor'
"This is a brilliant move by PayPal," futurist Glen Hiemstra told TechNewsWorld. "Establishing PayPal Galactic requires little investment or risk right now, but it repositions PayPal as the thought leader in the pay arena.
"It will motivate people internally as they embrace the 'cool factor' of being ahead of everyone, and generates great brand buzz externally," he added.
Space travel beyond short trips into orbit are still a ways off, of course, which means there is still time to develop protocols for the necessary currency and transactions.
'Ahead of Its Time'
"It's at least a little bit ahead of its time, and maybe a lot ahead of its time," Jeff Foust, senior analyst at Futron, told TechNewsWorld. "At some point down the road, and maybe in terms of decades, we have to start thinking about payment and currency infrastructure. For the foreseeable future there's no reason why the current system couldn't work."
At the same time, the first commercial trip to space will bring tourists into orbit in December, and there are plans in place to build a space hotel in three years, PayPal president David Marcus noted.
"If you're going to be on a suborbital flight, you're only going to be in flight for a few minutes," Foust said. "You're not going to buy something on eBay."
Still, "at some point far down the road, we need to take action on these things," he conceded.
'The Timing Is Right'
PayPal is clearly thinking of the future, and the timeline has already been laid out. The day when the average citizen can travel into space, and possibly live in space, is coming, hastened by the efforts of companies such as SpaceX.
"The timing is actually right in terms of humanity arriving at an inflection point for our move into space," Hiemstra opined.
"We first went to the moon 65 years after the Wright brothers," he pointed out. "While humans have been permanently in space since 2000, in a strange case of historic symmetry we will be heading into space in numbers about 65 years after Neal Armstrong, Buzz Aldrin and Michael Collins went to the moon.
"I am speaking of the 2030s, and by that time thousands of tourists will have made short trips into space, and there will be humans on the moon in what is likely to be early stages of permanent settlements," he added.
A Winning Proposition
"Elon Musk dreams — one might say plans — to be sending thousands to Mars starting in that decade," Hiemstra added. "The private Dutch project to send some people on a one-way trip to Mars has attracted, last time I looked, 700,000 volunteers.
"That is 700,000 customers who will look at PayPal Galactic and say, 'I need to use PayPal,'" he concluded. "I don't see how PayPal can lose."