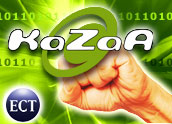 File-sharing network Kazaa must alter its software to try to stop illegal music sharing, a federal judge in Australia ruled Monday, but one analyst said the ruling won't change peer-to-peer file-swapping at all.
"In the end it's about as relevant as anything else these industries have done. Trying to pin down file sharing is like grabbing sand slipping through your fingers," Michael Goodman, senior analyst with Yankee Group, told TechNewsWorld. "Is [the ruling] the final nail in coffin for Kazaa? Who cares?"
"The court system and legislation can't keep up with technology. They're always fighting yesterday's battle," he added.
Users Have Moved On
Much of the music downloading that violates copyright laws now happens on BitTorrent and eDonkey, he said, adding that file-sharing networks will just use the model of offshore casinos, which operate in countries that don't prohibit them and whose owners also live in those countries.
"You're not going to stop people from writing code," he said. "Unlicensed file sharing will migrate to these countries that don't care."
Thirty record companies had joined together to file the lawsuit against Sydney, Australia-based Sharman Networks, which owns Kazaa. Sharman Chief Executive Nikki Hemming and Sharman software partner Altnet were also found guilty of copyright infringement and ordered by Judge Murray R. Wilcox to pay 90 percent of the record industry's costs for the lawsuit. Kazaa said in a brief statement that it will appeal the decision.
Similar US Ruling
In June, the U.S. Supreme Court ruled that file-sharing companies could be held liable for any copyright infringement that occurred over their networks. That case involved Grokster and StreamCast Networks' Morpheus.
Goodman said he has been arguing for years that both record labels and musicians should embrace file-sharing and create new business models around it, but from the Recording Industry Association of America's reaction to the decision, it is clear that that is a long way off.
"This decision reflects a growing, international chorus: those who promote theft can be held accountable no matter how they may attempt to escape responsibility," an RIAA statement said. "A corrupt business strategy of attempting to hide offshore is not off limits to the enforcement of rights by creators or law enforcement."
Kazaa's network operated from the island nation of Vanuatu off the Australian coast, but its executives lived in Sydney and Los Angeles, leaving them open to lawsuits in nations with laws against copyright infringement.