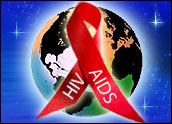 A characteristic that HIV shares with spam has led Microsoft and AIDS researchers to team up on developing a vaccine to kill the deadly disease.
Just as spam merchants make tiny changes in the words that are blocked by filters, so, too, HIV mutates rapidly and in tiny ways that keep it one step ahead of the body's immune system.
For that reason, Microsoft Research believes that software it uses to train anti-spam filters to recognize subtly altered words — "Viaggra," for instance — might provide clues as to how a vaccine could recognize and destroy HIV in the body.
Another Way To Look at It
David Heckerman, lead researcher and manager of the Microsoft ResearchMachine Learning and Applied Statistics Group, and his colleague Nebojsa Jojic discussedthe research today at the Conference on Retroviruses and OpportunisticInfections in Boston. Microsoft is collaborating with Dr. James Mullins, aUniversity of Washington microbiologist, and Simon Mallal, professor andexecutive director of the Center for Clinical Immunology and BiomedicalStatistics at Royal Perth Hospital and Murdoch University.
Mullins explained the technique to TechNewsWorld with a visual analogy. Imagine, he said, that he wanted four images of himself wearing four different shirts."Instead of describing myself four times in detail, I can describe Jim onceand then put tag at end of the description saying reproduce me with a differentcolor shirt," he said.
"The software allows me to build in some of the variation thatexists," he added, explaining how data-mining algorithms commonly used tosolve computing dilemmas such as managing computer databases, compressingdigital files or blocking spam e-mail can be useful in the fight againstAIDS.
Just as the slightly altered words in spam must remain recognizable to have any effect on recipients, the virus cannot mutate too far from its original coding or it will destroy itself.
Patterns of Mutation
Mallal's research focused on finding patterns in HIV mutation."We are computing the genetic ancestors of the virus that embody commonfeatures present in all present-day strains," he said in an interview onMicrosoft's Web site. The team hopes that this will give the body enough information torecognize the foreign invaders.
Mullins's team was also working on a computational method for recognizing the virus. He said his research team and the work at Microsoft dovetailed, leading to the joint effort.
"The reason we got together is we've been developing a computational methodof creating AIDS vaccine. We'd been trying to describe the basic structure,"he said. "In our work, we would leave out specifics. Microsoft added on thespecifics. It's the next generation of attack of the problem usingcomputation methods."
Even if an AIDS vaccine is a long time coming, the researchers said thatthis technique could help in the development of vaccines for other mutatingdiseases, such as hepatitis C.