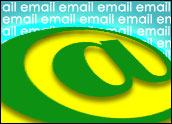 America Online is stepping into the free Web mail game today with the second beta of AOL Instant Messenger (AIM) version 5.9.
The mail service will be linked to AIM and features a whopping 2 GB of storage. Also included are spam filters, antivirus protection and the ability to drag-and-drop messages into folders. AOL will charge for ads that run alongside the e-mail page.
Opening Up Service
Analysts said AOL is trying to shift its business model from a subscription base of dial-up customers who receive proprietary content to a public access model in which the company makes money through ad click-throughs or placement.
"This is a step in moving away from a member-only service," Su Li Walker, associate analyst, Yankee Group, told TechNewsWorld. "AOL is trying to build out their portal as well this year to be more public." With broadband becoming more common, AOL's dial-up service is less desirable; the company has lost 5 million subscribers in the past three years. At the same time, it has seen a jump in ad revenue.
Keeping Up with the Competition
Yahoo and Microsoft — AOL's main competitors in consumer instant messaging — have been offering free e-mail for a long time, and search engine Google also offers free e-mail. But Walker said that because AIM, the most popular instant messenger, has a subscriber base of more than 20 million regular users, and consumers have no problem with multiple e-mail accounts, AOL's e-mail service is likely to catch on quickly.
"AOL has a base of users and can leverage those users by building and packaging different communication services," she said.
Tight Integration
The e-mail will be tightly integrated with AIM, which will notify users when a new e-mail arrives. Users can also see in either AIM or the e-mail which of their contacts is online. The e-mail addresses can be the same as AIM names and will have the suffix @aim.com. They will also be accessible through a single sign-on.
Last week, AOL opened up its AOL Journals blogging tool to the public. The tool was introduced in 2003 and was available to subscribers only. In a separate project, the company had announced at the end of April that it was in the midst of a complete updating of AIM, code-named Triton, that has nothing to do with version 5.9.