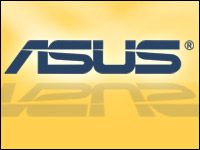 Leading what is likely to become a cavalcade of imitators, Asus debuted a tablet computer aimed squarely at the iPad market during the Computex computer conference.
The Asus Eee will sport 10- and 12-inch models running Core 2 Duo processors. The 12-inch version will run Windows 7 Home Premium, while the 10-inch version is based on Windows Embedded Compact 7.
Asus touts the 12-inch version for its multitasking capabilities and notes that it features an optional docking station that includes a keyboard. It also includes an integrated webcam for video conferencing.
In addition to the Eee Pad, Asus debuted a grayscale device called the "Eee Tablet." That device, aimed at students and business people, features what Asus claims is "one of the world's most accurate and sensitive note-taking devices," closely simulating the feel of pen on paper.
It's also being positioned as an e-reader with "almost lag-free page turns" and a low-eyestrain display.
iPhone comparisons
Given its limitations, the Eee Tablet is unlikely to make a run at the iPad, which has sold more than two million units since its debut in April, Michael Gartenberg, vice president with the Altimeter Group, told TechNewsWorld.
"It doesn't feel like what consumers are saying is we need a digital notepad for (US)$200 or $300," he said.
Then again, the Eee Pad may not be a good comparison to the iPad either, Gartenberg said.
Apple's Breakout
Manufacturers have long tried to get consumers interested in a tablet computer, but have failed until Apple redefined the market with its device.
Trying to cram Windows 7, or even Android, into a tablet computer isn't likely to resonate with consumers in the same way the iPad has, Gartenberg said.
"That's really the table stakes right now, the iPad. That's the baseline experience consumers have come to expect from this class of products."
App Store Crucial
And even if Windows 7 were modified to be better suited to a tablet form-factor, there's still the issue of the application ecosystem. Apple happily touts its 200,000 apps, while Microsoft has much less to point to from a consumer perspective.
Still, it will be nigh impossible to draw many conclusions about the Eee Pad until it's on the market and users can touch one.
"It's hard to tell when you're talking about prototyple hardware running prototype software," Gartenberg said.