Barnes & Noble took a big swipe at Amazon's dominance of the e-reader market with the introduction Wednesday of a new color Nookreader and a program to encourage the development of apps for its devices.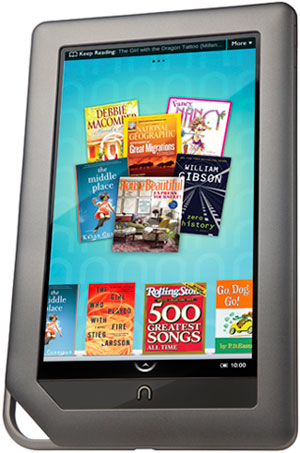 The Barnes & Noble Nook Color
The US$249 Nook Color is designed to appeal to readers interested in periodicals and graphic books as well as traditional text-dominated books, and it could boost the book retailer past prime competitorAmazon in the race to capture customers in the growing e-reader and tablet market, said Michael Norris, senior analyst for Simba Information.
"The Nook has really eaten into Amazon's perceived lead," he told TechNewsWorld.
Tech Specs
The WiFi-only Nookcolor features a backlit 7-inch, 1,024 by 600 display with a resolution of 169 pixels per inch. It's built on IPS LCD technology, similar to that in Apple's iPad.
The device weighs in at 15.8 ounces in an 8.1-inch tall by 5-inch widebody that's less than a half-inch thick. It ships with 8 GB of internal memory, enough for up to 6,000 books, Barnes & Noble said. It can be upgraded up to 32 GB with a microSD card.
It includes an audio player for music or audiobooks and can also play MP4 videos, with a 100-hour limit on audio files.
The Nook Color also includes a Web browser and social networking support for lending books to other Nook owners and for sharing reading experiences on social networking sites.
It's currently available for pre-order for $249, a $100 premium on the original grayscale Nook, but less than half the price of competing tablets such as the iPad or Galaxy Tab.
Developer Program
The device will have access to a specialty app store to be driven by a new developer program, also announced Wednesday.
The marketplace will provide developers with the tools necessary to build on e-books in a variety of ways, including enhanced content, applications built on the interests of readers as well as word games. The Nook Color will ship with some such applications, including a crossword app, Sudoku, chess, and Pandora Internet radio.
Barnes & Noble said it will release tools in the coming weeks, and developers will be allowed to submit apps beginning in early 2011.
Children's' Books Targeted
The company is also targeting parents with a program to develop interactive children's storybook titles, also announced Wednesday.
"Children's books are going to be a good market mover for Barnes &Noble, simply because they will intercept the parent shopping for children's books on their website or in their stores and they'll offer them a path that leads straight to Nookcolor," James McQuivey, vice president and principal analyst with Forrester Research, told TechNewsWorld.
Advantage Barnes & Noble?
Although the new device has some downsides — notably, battery life that's rated at 8 hours, compared to weeks for grayscale e-Ink devices– the broad functionality and low price point of the Nookcolor should make it an attractive package to consumers, McQuivey said.
"Barnes & Noble knows that they won't dissuade Apple fans from getting an iPad, but for the host of people who learn about the iPad but find themselves turned off by the high price, the Nookcolor offers itself as a way to be part of the future at half the price," he said. "Once Barnes & Noble can show that it has enough developers willing to port their apps from the Android Market to their modified Android platform,I think this device has the chance to attract a lot of latecomers to the tablet market."
Amazon in the Crosshairs?
A primary question now is whether Amazon will respond with a color device of its own.
In June, Amazon cut the price of its Kindle reader to position it against the Nook better, and it's unlikely the Internet retailer will wait long to respond with a color reader of its own, even though amazon CEO Jeff Bezos said as recently as 2009 that color reader is years off.