Samsung and Motorola have dropped three new phones on the market, from an Android number with not one but two Super AMOLED displays to a flip phone that uses an E Ink display.
All three are headed to Verizon Wireless stores by the end of the year.
The Samsung phones, the higher-end Continuum and the E Ink Zeal, showcase the company's hardware differentiation strategy and desire to build on third-quarter growth of 146 percent, said ABI Research analyst Michael Morgan.
"Samsung has come out of the gates running," he told TechNewsWorld.
Motorola's entry, a low-cost smartphone called the Citrus, is a nice transitional step for feature phone customers looking to step up to the smartphone category, where manufacturers and carriers are trying to steer all of their customers, Morgan said.
The Continuum
The Continuum is the latest in Samsung's Galaxy S series of phones. Shipping with Android 2.1, the phone is powered by a 1 GHz Hummingbird processor and caries a 5-megapixel camera.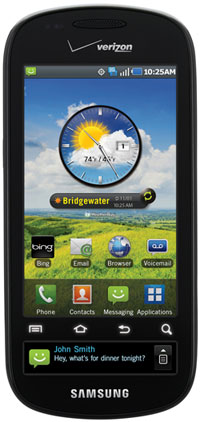 The Samsung Continuum
It features two Super AMOLED screens — the main 3.4 inch touchscreen display and a 1.8-inch ticker display near the bottom of the phone that can provide a stream of news, social networking and other information updates, and can also display incoming messages while the phone is being used for other purposes.
That's a key differentiator for Samsung, said Morgan.
"Those Super AMOLED screens are made by Samsung," he said. "Some folks are going to have component shortages. Not them — they're making them."
Like some other Android phones, the Continuum can be used as a mobile WiFi hot spot and comes with an 8 GB MicroSD card, upgradeable to 32 GB. It features the usual complement of smartphone features, including accelerometer, GPS, music player and email support for Exchange accounts.
The Continuum goes on sale Nov. 18 at Verizon stores and online for $199.99 after a $100 mail-in rebate with the customary two-year contract. It will be available for pre-order beginning Nov. 11.
The Citrus
Motorola bills the Citrus as an "affordable, entry-level, customizable smartphone experience."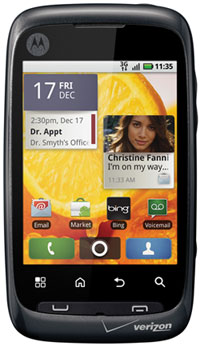 The Motorola Citrus
The phone is powered by a 528 Mhz processor and comes with a 2 GB microSD card to supplement its 100 MB of onboard storage.
It will ship with Android 2.1 and features a QVGA capacitive touchscreen display. It has a 3-megapixel camera and can download and run apps from the Android Market.
Motorola and Verizon are quick to point out the phone's environmental street cred. It is made from 25 percent post-consumer recycled plastic and has been certified "CarbonFree" through a partnership with