The Samsung Galaxy Camera will become available on Nov. 16 for US$499.99, AT&T announced Monday. The 16-megapixel camera runs Android 4.1 Jelly Bean, which opens the lens on a new category for cameras and wireless services.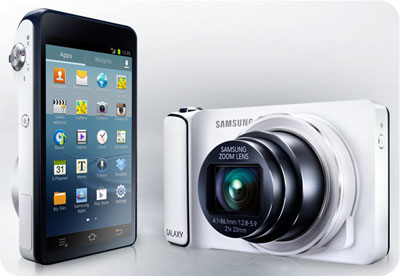 Samsung Galaxy Camera
"This is brand new thinking that links AT&T, Samsung and Android," industry analyst Jeff Kagan told TechNewsWorld. "Yesterday, wireless meant just phones — but going forward, it means so much more."
The camera runs on AT&T's 4G network, which will allow users to snap photos and instantly share them via email, social networking and SMS messaging.
As an incentive, AT&T is making a limited-time special offer to customers who purchase any Samsung Galaxy smartphone with a two-year contract: $100 off the purchase price of a second Samsung connected device, including the Samsung Galaxy Camera.
All About Sharing
The Samsung Galaxy Camera is a 16-MP point-and-shoot that runs Android 4.1, aka Jelly Bean. It features a 4.8-inch HD Super Clear LCD screen and a 21x optical zoom lens. Its16 MP BSI CMOS sensor shoots high-quality images close up in low light conditions.
The device is powered by a quad-core 1 GHz processor. It features Smart Pro Mode technology, which allows users to toggle through a series of pre-set options to enhance the quality of photos.
The camera has several sharing modes, including AllShare Play, Share Shot and Buddy Photo Share.
AllShare Play helps connect to Samsung HDTVs, laptops and other devices on the same WiFi network to share content and play slide shows.
Share Shot automatically sends still images from the camera to Galaxy S III and Galaxy Note handsets up to 200 feet away.
Buddy Photo Share automatically tags faces of existing contacts in photos. That means Buddy Photo Share will use facial recognition to identify any subjects of photos who are in a user's database — for instance a friend on Facebook — and supply the contacts' names.
Connected Everything
Though the standalone smart-camera niche has just a few early entrants so far, it's likely the Samsung Galaxy Camera will soon have more company.
"It is clear that compact camera OEMs have been impacted by the surge in consumers opting to use their smartphone camera versus a dedicated point-and-shoot," noted Pamela Tufegdzic, senior analyst for consumer electronics for IHS iSuppli.
"Consumer demand for connectivity capabilities such as WiFi and/or 3G/4G in digital cameras will continue to increase and become a must-have feature that will help gain interest back into this threatened consumer electronics market," she told TechNewsWorld.
"The Samsung Galaxy Camera is a real, standalone camera, but it communicates on the AT&T 4G network and works on the Google Android system," Kagan noted. "This is a very advanced camera, not in the way it takes pictures, but in the way you can share the pictures you take."
Most phones these days can take a decent picture, but the Samsung Galaxy Camera is a robust camera with connected capabilities that include access to Android apps, and direct connection to social networking sites such as Facebook, Pinterest, Instagram and Twitter.
Instant access to social networking sites and apps is very attractive to consumers.
"Consumers are used to sharing photos via their smartphones to Facebook, email or other social networking sites, but now with the Galaxy Camera, consumers can enjoy advanced photography features enabling better image quality due to better optics that the current generation smartphones lack," said iSuppli's Tufegdzic.
"As cloud computing and the connected home continue to advance, non-connected devices continue to be less meaningful to the consumer," she observed.
The Joy of Jelly Bean
"The Galaxy Camera runs a full-featured version of Android 4.1 Jelly Bean, with Samsung's signature TouchWIZ enhancements," said Phillip Berne, technical manager of Samsung's Mobile Media Lab.
"The Android OS offers access to more than 700,000 apps so that users can continually add new features to the device, including creative camera apps, great editing tools such as Photoshop Express, and scores of additional features," Berne told TechNewsWorld.
"Powered by Android, the Galaxy Camera also becomes a multifunctional device that allows users to browse and search the Web, watch videos on YouTube, use built-in GPS navigation, and play games."
The Android-powered camera will tap into a number of photo apps.
"Almost all standard Android apps work great with the Galaxy Camera, including plenty of third-party camera apps such as Instagram, Retro Camera, Paper Camera, and video-calling apps such as Skype," Berne said.
Extra Fees Too
Adding a 4G-connected camera means adding another device to the data plan.
"Many devices besides phones are already using wireless networks, and the list continues to grow," said Kagan. "AT&T offers wireless service, but also lets you join all your devices together to share a data plan."
Bundles start at $10 per month to share between 1 GB and 20 GB of data under the Mobile Share plan, and go up to $50 per month to share 5 GB of data under AT&T's DataConnect plan.