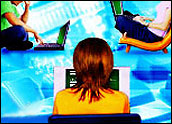 Matt Drudge may be the world's most famous blogger, having outed former President Clinton and his pudgy paramour Monica Lewinsky online. His successors on the Internet made blogging a political force during last year's presidential election, and may have helped George W. Bush retain the White House for the Republicans.
But business blogs — not political, or celebrity gossip sites — are the hottest trend of 2005 on the Internet, experts say. Upwards of 31 million blogs have been created thus far in the U.S., and that number is expected to exceed 53.4 million by the end of this year, according to a study by Braintree, Mass.-based Perseus Development Corp., an online polling and research firm.
Boosting Presence
A huge number of those blogs are being produced and hosted by businesses seeking to market themselves more effectively in cyberspace. Some companies are even encouraging their employees — of any stripe, not just communications and marketing personnel — to launch their own blogs and tout the virtues of their company's products and services.
This includes companies like Sun Microsystems, IBM, Microsoft, Hewlett-Packard and Macromedia, but also smaller brands, like joepaduda.com, moosetopia.com, and publiceye.silkblogs.com, written by Peter Quintas, chief technology officer of SilkRoad Technology.
Blogs bring a number of benefits, experts say. "Blogs can create a direct outlet between a company and its target consumers," said Chris Thilk, a marketing expert at Bacon's Information Services, based in Chicago. "The immediacy is attractive, since the company can avoid long advertising production cycles. The company can also be seen as cutting-edge and as honest and untouched by PR spin."
Another benefit is that the cost of blogging is lower than that of other marketing media. "Blogs make telling your company's story easy and authentic," said David Meerman Scott, a contributing editor to eContent Magazine. "The rapid set-up and easy-to-use features of blogs help companies reach both external and internal constituents."
Knowing the Risks
But there are risks involved too, experts said. Some blogs contain sensitive information about an employer — and can raise potential security or even libel concerns. A Google employee was reportedly fired for revealing internal developments at the search engine on his blog. A flight attendant at Delta Airlines was purportedly fired for showing a provocative photo of herself on her personal blog. And a court ordered a blogging hosting provider to identify three anonymous Apple employees who had posted secret company information online.
"The whole idea of diluting or muddling messages by chatting recklessly, and publicly, can only have bad consequences," said Richard Laermer, president and CEO of RLM PR, based in New York City.
Having one's employees blog, on the job, might also be a huge productivity killer. "It can be a time waster," said Laermer.
Experts say that before embarking on a blogging project for a business, executives need to develop a blogging strategy, and make sure that employees know the strategy, and protocol, before blogging.
"Is every member of your company fully up-to-speed on which customers allow public mention, and which do not?" asked Doyle Albee, a marketing expert in Boulder, Colo., in a recent e-mail to his own clients. "A seemingly innocent and positive posting about a company's work for a customer, for example, could cost a company a client."
Educating Employees
Employees also need to be schooled in what is, and what is not, proprietary information before being allowed to blog. "What seems like common knowledge to someone could cost you a market advantage," said Albee.
For companies that are publicly traded, the consequences could be much more severe. "Have you considered SEC [Securities and Exchange Commission] guidelines?" siad Albee. "A mismanged blog posting could have far-reaching impact, delaying filings, violations of laws regarding material disclosures, etc. These impacts can be dramatic and can even carry criminal charges."
Lastly, you may want to consider just whom you empower to be a blogger. If they are fired in the future, they can become a potent enemy online, and with RSS — Real Simple Syndication technology — they can distribute their angry missives against you easily, to many readers around the world.
"The damage can be dramatic even if the post is quickly removed," said Albee.