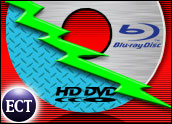 The organization responsible for developing security measures for next-generation DVDs has plugged a hole that allowed hackers to locate and unlock encryption keys for movies released on HD DVD and Blu-ray discs.
The Advanced Access Content System License Administrator (AACS) has responded to recent attacks on its copy protection on Blu-ray and HD DVD discs and is working with device makers to deactivate the compromised encryption keys and refresh them with a new set, the group said.
Decrypting Copy-Protected Movies
The move comes after several well-publicized and successful attempts to decrypt copy-protected movies on HD DVD and Blu-ray Disc.
Makers of HD DVD- and Blu-ray-compatible software-based DVD players are offering corrective patches containing new encryption keys.
The digital rights management (DRM) protection on discs is designed to prevent illegal copying of movies. However, hackers late last year cracked the code found on the PC-based DVD players and published keys that could unlock protections on all high-def discs.
The makers of software-based playback software are expected to distribute more secure versions, according to Michael Ayers, chairman of the AACS License Administrator.
Corel, which markets the WinDVD player for PCs, issued a mandatory update for all product owners who wish to continue to use its software to view Blu-ray and HD DVD discs.
"The device keys associated with the [Corel] player are being deactivated and [Corel] has updated its player," Ayers told TechNewsWorld. "They are taking steps that block off access to the inner workings of the application."
The Keys to Security
The AACS responded to those who cracked the encryption keys by revoking existing license keys for the affected DVD players, and released new keys.
The update affects software-based DVD players from Cyberlink and Corel. Standalone DVD players, such as the Toshiba HD DVD player and the Sony Blu-ray player, are not affected by the announcement. Thus far, no problems have been found with their security.