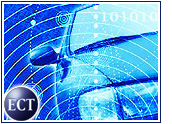 A truck gets a flat tire on Route 65, somewhere in Indiana, and the driver doesn't know his exact location. He phones the dispatcher, who looks up the trucker's locale with a vehicle location system that relies on global positioning system (GPS) technology.
Overcoming its beginnings as a niche application for high-end automobiles, telematics technology has grown into a US$650 million business that analysts at investment bank UBS Warburg expect to reach $41 billion by 2010.
The first applications were for fleet vehicles — used by trucking companies — and for luxury car brands, like Mercedes and Cadillac. But developers today are going beyond simple applications, such as vehicle location, and are adding a host of new features that are making all sorts of vehicles — even mobile homes — as networked as a high-tech office park.
What is more, developers are linking vehicle telematics system with home networks, giving drivers some measure of control over their abode when they are still on the road.
"One of our products is a networked car that integrates with a family home network," Andrew Rollert, chairman and CEO of Boston-based developer SaVoyant, told TechNewsWorld. "The touch screens in the automobile all have the same desktop, files, applications and data that their computers do, so users never lose a beat when they have to go on the road."
Touch by Voice
Major electronics manufacturers — not just small startups and niche companies — are driving most of this development.
Later this month, for example, IBM is introducing enhanced voice recognition technology for a new navigation system that will be rolled out in select Honda Accord models.
"With this system, drivers can gain access to a range of services without taking their hands off the wheel," Robert Bienenfeld, senior manager of product planning for American Honda, told TechNewsWorld.
To get directions, a driver will touch the "talk" button on the steering wheel, and the system will immediately recognize spoken commands, such as "find the nearest gas station," "find the nearest ATM" or even "find the nearest Italian restaurant."
The technology is integrated into the vehicle's audio system, and driving instructions are delivered to the driver over the speakers. IBM calls this voice recognition technology its "Touch by Voice" system.
Mass-Market Move
Meanwhile, Hyundai is adding an end-to-end telematics system to its vehicles, providing, among other applications, air-bag deployment notification to emergency services, stolen-vehicle tracing services and a driver information portal that will deliver news, stock quotes and even weather forecasts — as well as data synchronization for PDAs and mobile phones.
Other interesting applications are emerging across the car industry, from luxury vehicle makers to recreational vehicle makers.
Johnson Controls — long a supplier to Detroit — is collaborating with QNX Software Systems to develop a hands-free system that enables drivers to operate a Bluetooth mobile phone without taking their hands off the steering wheel.
General Motors, meanwhile, is employing OnStar technology in mobile homes. The automaker is working with RiverPark of Elkhart, Indiana, to create an OnStar RV Special Edition so that vacationers can easily make emergency calls and find information on services in the locales they visit.
DaimlerChrysler also is shipping a new in-vehicle communications system for the Chrysler Pacifica, and BMW is developing an in-car radio navigation system.
Next-Generation Tech
The development of ad hoc, peer-to-peer networks by public safety organizations is rapidly transforming police and fire vehicles into mobile command centers.
In the wake of 9-11, with increased need for homeland security, police officers and firefighters are being supplied with real-time voice and video, instant mobile access to local and state databases, and vehicle-location technologies.
Eventually — by most analyst estimates — these adoption trends will move to the next level, enabling cars to talk directly to each other, wirelessly.
"Computing is entering a phase that goes beyond the PC and into devices that are not normally associated with computing power," Raj Desai, director of global automotive and telematics solutions at IBM, told TechNewsWorld.
"Telematics, in the coming years, will make cars part of a seamless computer user environment in the United States, Europe and Asia," Joanne Downie, director of consultancy Strategy Analytics, told TechNewsWorld.
Some developers reckon that advanced electronics will drive 90 percent of all innovation in cars during the next decade.
Bureaucratic Barriers
But the telematics industry is not without its problems, including potential litigation. The Federal Communications Commission is requiring wireless phone companies to update their networks to provide enhanced 911 services, a requirement that might soon apply to telematics purveyors. New requirements would increase the costs associated with rolling out new telematics services.
There is some question as to whether the FCC even has the jurisdictionto regulate the nascent telematics industry or is engaged in classic bureaucratic overreach.
"The FCC has opened a proceeding in which it is asking whether this same enhanced 911 requirement should apply to telematics and other new types of communications technologies," Mark D. Johnson, an attorney at Washington, D.C.-based law firm Squire, Sanders & Dempsey, told TechNewsWorld.
Johnson said the industry's response to the FCC's proceeding thus far has been negative, and he noted that one provider, OnStar, has specifically asked the government not to include telematics in the enhanced 911 services rule.
The general industry consensus is that the FCC should not impose these requirements on telematics technology because the market is still young and evolving. Regulations could create unnecessary barriers to future growth.