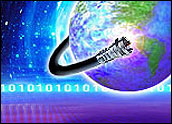 A new, national report by comScore Networks indicates broadband Internet access is ready to overtake dial-up access as the top online subscription service in major metro markets in the United States.
The study, released this week in the Reston, Virginia-based company's fourth-quarter market-share report, states that in many of those major markets, like New York City, Boston and San Diego, broadband usage is already on par with dial-up access.
"In the past several months, we've seen the U.S. online population reach 150 million people, and household broadband penetration cross the 33 percent threshold," said Russ Fradin, executive vice president of comScore Networks. "Now we've recorded another milestone, with broadband accounting for more than half of U.S. major market Internet connections."
Broadband Growth Part of Economic Expansion
The news comes as the economy is heating up and consumers are spending more on luxuries like broadband access. In an interview with TechNewsWorld, a spokesperson for the Joint Economic Committee on Capitol Hill said that although there are slow job gains in the economy, there is "rapid economic growth."
The economy grew at a strong 4.1 percent rate during the fourth quarter of last year, as consumer demand from broadband access was increasing. "Forecasters project sustained growth of 4 percent throughout this year," the spokesperson told TechNewsWorld.
That's good news for continued growth of the Internet. The comScore report said there will be lots of churning among ISPs in the coming year, however.
"ComScore's survey research reveals a substantial number of people on the verge of switching ISPs, indicating that a significant number of customers are benefiting from intense competition among incumbent phone and cable providers, as well as newer market entrants," said Fradin.
Leading ISPs
Renewed marketing efforts by ISPs appear to be paying off.
"It's clear that increased promotional activity and lower prices introduced by these competitors are fueling the momentum of broadband growth," said Fradin, "particularly in the larger markets."
The leading ISPs, per the comScore report, are as follows:
America Online with a 28 percent market share of the U.S. market.
Comcast with a 7 percent share.
United Online with a 6 percent share.
Microsoft with a 6 percent share.
SBC with a 6 percent share.
Earthlink with a 5 percent share.
RoadRunner with a 4 percent share.
The report said the leading market for broadband access was San Diego, which boasted that 52 percent of Internet subscribers there were using broadband connections.
The others in the top three were Boston, with 50 percent of users employing broadband, and New York City, with 49 percent of users using broadband services.
Cable Modems Lead
Approximately 63 percent of broadband connections are made through cable modems, with 37 percent made via DSL, comScore said.
But those numbers are likely to change in just a few months.
"More than one in four Internet users intend to switch ISPs in the next six months," said comScore. "The majority of those reporting they planned to change ISPs would be selecting a broadband provider. By far, the most common reason cited for the switch was a desire for a faster connection."
This continues the technology-spending trend started last year when the economy started to shake off the effects of September 11, 2001, and the recession.
The spokesperson for the Joint Economic Committee told TechNewsWorld that investment in equipment and software posted "very rapid growth" in 2003 overall, rising 15 percent in both of the last two quarters of the year.
"Confidence measures remain well above last summer's readings, and consumer spending continues to advance, rising 0.4 percent in January and 0.5 percent in December."