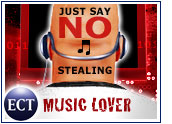 Want to download pop songs in MP3 format with impunity and without fear of prosecution? Move to Canada. The refuge for Vietnam War draft dodgers of the 1970s is now an asylum for intellectual-property pirates.
A federal court judge in Canada this week ruled that swapping songs on the Internet for "personal use" does not violate copyright law or infringe on the rights of artists. "Downloading a song for personal use does not amount to infringement," Justice Konrad von Finckenstein of the Federal Court of Canada declared in a decision released this week.
"I cannot see a real difference between a library that places a photocopy machine in a room full of copyrighted material and a computer user that places a personal copy on a shared directory," von Finckenstein said.
The ruling generated immediate reaction around the industry, especially with a Florida court now requiring the RIAA to file individual lawsuits against suspected file sharers rather than lumping them together in a single suit.
Judge's Rationale
The Recording Industry Association of America (RIAA) has filed hundreds of lawsuits against alleged intellectual-property pirates in the United States. The lawsuit campaign began largely because the music industry has been hemorrhaging sales. The RIAA claims the cause is an emerging digital culture that believes anything available on the Internet should be free.
The Canadian Recording Industry Association — the counterpart to the RIAA in the United States — sought to extend the war on copyright thieves to a new, northern front. CRIA brought the suit, resulting in von Finckenstein's ruling, as it sought a court order to identify 29 MP3 file sharers who were posting pop songs on the Net without the publishers' permission.
Judge von Finckenstein, however, refused to grant the order, declaring that placing a song in an online music-sharing service such as Kazaa — despite common sense and precedent to the contrary — "does not amount to distribution."
He wrote that the CRIA produced "no evidence" that the alleged uploaders knowingly "distributed or authorized the reproduction of sound recordings" via P2P file-sharing sites.
Appeal Likely
"The mere fact of placing a copy on a shared directory in a computer where that copy can be accessed via a P2P service does not amount to distribution," von Finckenstein wrote.
The CRIA is likely to appeal, because the Canadian music industry claims song theft via the Internet is responsible for its woes, including declines in Canadian sales of more than CDN$425 million since 1999.
Some North Americans think it is time to rewrite U.S. copyright law, though it is doubtful they would go so far as to say artists do not have a right to control distribution of their works, as the justice in Canada said.
For example, David McClure, president of the U.S. Internet Industry Association, based in Washington, D.C., told TechNewsWorld that it is time to rewrite U.S. copyright law so that other artists can use copyrighted works more freely. However, he did not endorse ending protection for artists altogether.
Tech Solution to Piracy
Something must be done, say most industry analysts, to protect the rights of copyright holders and also the privacy of Internet users. But the industry could be far from an easy solution.
"Courts are beginning to recognize that the record companies' crusade against file sharers is stepping on the privacy and due-process rights of those accused," said Cindy Cohn, legal director for the Electronic Frontier Foundation, in a statement.
A technological solution, rather than a legal or legislative one, may be the key for Big Music in the United States.
Mark Baric, chairman and CEO of 2Thumbz Entertainment, based in Research Triangle Park, North Carolina, told TechNewsWorld that the gaming industry has developed a distribution methodology that might prevent piracy if used by other entertainment titans.
Baric's company is a publisher of games sold to mobile phone users. He says customers order the games online, and then the product is sent to a "specific IP address."
This, Baric argues, is more secure than other methods of distribution because the software cannot be forwarded by the phone user. "It's much more difficult to pirate," he said in an interview with TechNewsWorld.