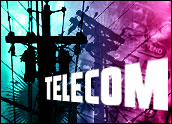 Verizon is moving forward aggressively with plans to expand its broadband offerings, throughout the U.S. But experts tell TechNewsWorld that the moves are necessary, and timely, because broadband competition is rapidly accelerating, especially in the wireless market.
New York-based Verizon on Monday cut its monthly subscription charge for wireless broadband by 25 percent, and is adding seven new markets for its service, including Denver; Charlotte, N.C; Sacramento, Calif.; Louisville, Ky.; Knoxville, Tenn.; Baton Rouge, La.; and the San Francisco Bay area.
According to Jupiter Research, wireless DSL is becoming a viable alternative to land-based services like cable modem and Wireless Fidelity (WiFi).
Last week, Verizon began offering a new, integrated digital subscriber line (DSL) service to subscribers in 28 states and Washington D.C., provided in conjunction with Yahoo, the Sunnyvale, Calif.-based search engine and software developer.
Other Carriers Acting
Other carriers are expanding their broadband offerings, too. On Tuesday, San Jose, Calif.-based Redback Networks disclosed a deal for next-generation broadband networking services with Pioneer Telephone Cooperative, one of the nation's largest telecom cooperatives, with 140,000 customers in 30 counties in Oklahoma.
"Customers are becoming more sophisticated subscribers as new applications gain popularity," said Steven Copeland, supervisor of network engineering for Internet services at Pioneer.
Expansion of broadband services is underway in Europe, too, where digital telecom services are viewed as a way to regain competitiveness against the United States.
This week, Sweden's Bredbandsbolaget, known as B2 internationally, announced it is deploying VDSL technology from Ericsson to provide Internet, IP telephony and video services over an Internet broadband architecture. Peder Ramel, the company's chief executive officer, says the move is "in line with our ambition … of having the fastest offerings for our customers."
In the United States, Verizon may have found a significant advantage over other broadband carriers in the marketing breadth of Yahoo. As Yahoo's Chief Operating Officer Dan Rosensweig said, the company's "strong brand stature" is the key to the alliance, announced last week. The companies are preparing for a massive online marketing campaign, designed to draw in new customers.
Seeking New Revenue Streams
Experts tell TechNewsWorld that in the future, a major revenue stream for wireless carriers is likely to be Web browsing, already a major revenue generator for broadband operators. This could also be a long-term reason behind the Yahoo and Verizon alliance.
"Statistics show that more than 90 percent of games downloaded from cell phones are downloaded in the first few weeks of ownership," said Jennifer Bannan, a spokeswoman for AuthenTec, a biometric products developer. "This indicates that the games quickly lose their appeal. If you've ever tried to play using the standard up and down arrow buttons on a phone, then you know why."
But, Bannan speculates, what if the phones could use something other than buttons for gaming? Many carriers, such as NTT DoCoMo, are recognizing that current biometric sensors in place on a growing number of PDAs provide an excellent touchpad surface — allowing the finger that authenticates to become a mouse, for optimal navigation.
Cutting the Edges
"This is going to make a big difference for Web browsing on a phone as well — and the technology is well on its way," Bannan said.
Bannan noted that carriers like Verizon are very interested in the "ARPU," or Average Revenue per Unit, and are now trying to find other ARPU generators besides games, "ring tones and text messaging."