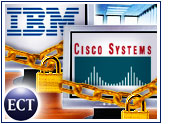 IBM and Cisco announced software security updates designed to further protect networks from worms and viruses.
The updates to IBM's Tivoli software will enable it to work more closely with Cisco's Network Admission Control (NAC) technologies.
IBM's Tivoli Security Compliance Manager scans devices that plug into the network, such as laptops and home computers that may have been unprotected by network security. If it finds a virus or worm, Cisco's Secure Access Control Server (ACS) — part of NAC's architecture — takes over to decide whether to allow the computer to access the system.
Devices denied access are moved into a separate secure area. From there, Tivoli Provisioning Manager takes over. It can prompt users for stronger passwords or go so far as to install patches or anti-virus software updates before turning the device back over to the ACS admission process.
The companies had promised the tighter integration in February.
CA Joins NAC
Cisco also announced today that software company Computer Associates (CA) had joined the NAC effort. McAfee, Symantec and Trend Micro are already part of the program, which was launched in November and saw its first release of products in June.
"Cisco's NAC is very important for companies who are looking to add an immune system," Sam Curry, vice president of eTrust Security Management at CA told TechNewsWorld. "Our customers were asking for it."
CA serves large enterprises who are concerned with the potential loss of data an infection could cause. Curry added that data loss could result in non-compliance with regulations such as Sarbanes-Oxley, the public company accounting reform and investment protection act, and HIPAA, the medical privacy act.
Beyond Anti-Virus
Curry said CA is the first company to extending NAC technology beyond anti-virus protection to any kind of unwanted access, such as spyware. CA recently bought PestPatrol anti-spyware.
The company will be integrating the NAC hardware into 28 different eTrust software programs. Currently in beta testing, the first products are slated for release in November and will roll out after that until all 28 products have been integrated with NAC technology, Curry said.