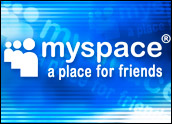 Connecticut lawmakers are pushing a bill that would require social networking sites such asMySpace.com to verify users' ages and obtain parental consent for minors who want to post profiles.
Attorney General Richard Blumenthal, along with Democratic and Republican leaders of the General Law Committee, introduced the legislation on Wednesday, a day after a Connecticut man was sentenced to 14 years in prison for using MySpace to set up a sexual meeting with an 11-year-old Connecticut girl.
The conviction came in one of several federal cases involving alleged sexual predators using the popular networking Web site to lure minors.
Steep Fines Proposed
Under the Connecticut proposal, Web sites that fail to verify ages and fail to obtain parental permission to post profiles of users under 18 face civil penalties of up to US$5,000 per violation.
"The technology is available," said Blumenthal. "The solution is financially feasible, practically doable. If we can put a man on the moon, we can check ages of people on these Web sites."
States' Rights
Connecticut and many other states have jurisdiction under consumer protection laws, Blumenthal said, because advertisements posted on the social networking Web sites are viewed in the state and therefore are subject to state law.
After meeting with other attorneys general on Tuesday, he reported that up to 44 states were considering similar legislation.
"Strong interest in this measure was expressed to me by other attorneys general at our national meeting yesterday," said Blumenthal. "In Connecticut, at least six alleged sexual assaults involving older men and underage girls have been tied to MySpace in the last year."
Not a Slam Dunk
However, Blumenthal can expect plenty of opposition to the bill. Social networking has become big business, and teenagers drive a good deal of profits, Mukul Krishna, an analyst with Frost & Sullivan, told TechNewsWorld.
"Look at demographics," said Krishna. "Most of the ad revenue is generated by young people. As soon as they start legislating it, subscriptions will drop and the business model will get destroyed. Membership would come down, and click through would come down, and advertisers would lose interest."
Better Approach?
MySpace Chief Security Officer Hemanshu Nigam has said the company is committed to protecting teens online but does not believe the proposed Connecticut legislation is the best way to do that.
"The most effective means to protect teens online is through a combined approach involving features and tools to make our site safer, educating our users and their parents, and working collaboratively with online safety organizations and companies," Nigam said in a statement.
"We have and will continue to focus considerable resources on developing effective ways to make our site safer. Attorney General Blumenthal's proposal, while well intentioned, is not the answer."
MySpace, which is owned by News Corp., is the largest social networking site, with more than 100 million registered users.