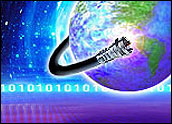 A new research report by the Boston-based consultancy Strategy Analytics indicates that consumer demand for access to broadband services is powering growth in the market for VSATs — very small aperture terminals.
A copy of the findings was provided to TechNewsWorld.
Although the VSAT industry has undergone "difficult times" with faltering growth and several failed attempts to bring in two-way broadband services in the recent past, the new report released last week, "VSAT Markets Look to Consumer Broadband for Growth," forecasts that current broadband VSAT system rollouts will stimulate demand for so-called "GaAs high-speed semiconductor-based devices" from a previously moribund market.
A Handful of Players
The VSAT market is dominated by a handful of players. Hughes Network Systems and Gilat are the most noted names, the study said.
The study noted that both companies are at advanced stages of introducing broadband services, with one competitor, WildBlue, already in operation and taking customers.
The GaAs (or, gallium arsenide-based) technology, in both discrete and integrated form, is enabling the move to higher frequencies as mature, high power/high frequency processes become available for mass production at a price point that can be accepted by VSAT designers, the study said.
"This is a complex market in which VSAT manufacturers are re-positioning themselves as full line service providers," Asif Anwar, director of the Strategy Analytics' GaAs service, based in London, said. "GaAs is a crucial element of these vendors' plans, particularly for the power amplifier function. With the VSAT terminal market in the hands of a few key players, opportunities are limited, but nevertheless, profitable."
GaAs, as a technology, has dominated VSAT Radio Frequency (RF) sub-systems since the inception of this market some 15 years ago, said Stephen Entwistle, vice president, strategic technologies practice at Strategic Analytics. "But we are beginning to see developments in alternative technologies, such as GaN and SiGe, that could provide competition for GaAs in the future."
A Dark Horse
VSAT technology is often called the "dark horse" of online access technologies.
VSATs were popular in the early 1990s due to the non-availability of leased lines and higher costs/lead time required for getting leased lines among many international businesses, especially overseas. In certain economic sectors, like retail, oil and banking, where firms have to connect 3,000 to 4,000 locations, VSATs often come in handy.
The use of VSAT technology fluctuates with a company's bandwidth requirements.
Another dark horse connectivity contender is VPNs, or Virtual Private Networks. Among VPN options, IP VPN and SSL VPN share the spotlight. SSL VPN is particularly popular overseas, as its uptime is high and manpower requirements are low. The technology has also proven to be quite secure, experts say.
Some Commonalities
These technologies both rely on satellite and wireless communications. They are receiving a boost, at least as far as government customers are concerned, with their performance during the recent hurricanes in the Gulf Coast.
The marketing focus must be on educating emergency managers at the federal, state and local levels — as well as individual consumers — where the preparation decisions will be made, Tony Trujillo, chairman of the Satellite Industries Association, said. "This will be a big job," Trujillo, said at a November 15 forum, "After Katrina: Lessons Learned and Forward Planning," hosted by the Mid-Atlantic Chapter of the Society of Satellite Professionals International in Washington, D.C. "The governments of coastal states and policy makers at the federal level have a better understanding of our capabilities, but it takes a tremendous amount of effort to prepare."
Satellite communications capabilities are just a part of the set of supplies that relief organizations need, he added. The Global VSAT Forum (GVF) met with the International Association of Emergency Managers, a non-profit educational organization, following the hurricane relief efforts to promote satellite communications, at the conference, to promote the technologies, he said.