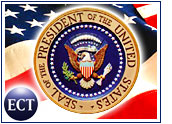 Forget about a spot on the grassy knoll: A new Internet video game offers players the opportunity to shoot President John F. Kennedy themselves, for a $9.99 download.
JFKReloaded, released today, the 41st anniversary of the president's death, is a first-person game in which the player sees the view through Lee Harvey Oswald's telescopic rifle sights. The Kennedy motorcade is passing through Dealey Plaza in Dallas as the player sits in the Texas School Book Depository.
In Poor Taste
The Kennedy family has denounced the game. "It is despicable," said David Smith, a spokesperson for Sen. Edward Kennedy.
"In general, I find it distasteful for anyone to make any sort of profit off of the assassination in this manner," Michael Russ, a researcher who runs the John F. Kennedy Assassination Information Center Web site, told TechNewsWorld.
"On the other hand," he said, "I have purchased books and watched TV documentaries that have feature researchers engaging in re-creations of the assassination scene, and have found the information to be invaluable in understanding the realities of the situation."
CSI: Dealey Plaza
The idea of the game is to try to re-create the events of Nov. 22, 1963, exactly as the Warren Commission concluded they happened, with the same results.
The game designer, Scottish company Traffic, is also sponsoring a contest in which the person who most closely matches Oswald's shots will win up to $100,000, depending on how many people download the game. The company said there is already $10,000 in the prize fund.
Traffic is billing the game as a forensic investigation to reconstruct the assassination and uncover the most likely course of events. It claims it is taking advantage of new technology to further clarify what happened.
"I don't think it will add anything significant to the dialog as most serious researchers already understand the nature of the shooting feat based on previous re-creations," said Russ, who believes that the Warren Commission was correct in concluding that Oswald acted alone.
"People who believe the shooting feat was 'impossible' will attack the multiple assumptions that must go into any re-creation of this type."
The $10 fee gets players 10 chances to try to re-create shot trajectory and timing for the contest, although there are no limits on practice assassinations. The contest ends at midnight Feb. 21, President's Day in the United States.