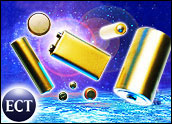 The market for gallium-arsenide (GaAs) technology — spurred by the mobile phone industry and the Pentagon's Defense Advanced Research Projects Agency (DARPA) — could ascend to US$3 billion this year.
Research by the Boston-based consultancy, Strategy Analytics, forecasts that GaAs device revenues will grow by 36 percent over 2005 to 2010, breaking the $3 billion barrier in 2006. Overall, the firm said, market growth will be derived from wireless markets, with cellular handsets as the primary driver, during the next five years.
Cellular handset shipments — increasingly characterized by multi-mode and multi-band operational requirements — are the primary growth factor. Multi-mode and multi-band handsets will increase GaAs device penetration in handsets, offsetting ASP erosion.
Pentagon Strategy
The Pentagon's search for an alternative energy source is adding interest in the market too.
"It's not just a case of increasing handset shipments which helps to increase GaAs device demand from the handset market over the next five years," Asif Anwar, director of the Strategy Analytics semiconductor research, told TechNewsWorld.
In 2006 and beyond we'll see the market "shift towards EDGE/GPRS-based and WCDMA/EDGE multi-mode, multi-band architectures. This will actually increase the number of HBT and pHEMT die going into increasingly complex RF front-end module solutions," he added.
Demand from other applications will augment GaAs device revenues as well, said Stephen Entwistle, vice president of Strategy Analytics. "We foresee increased demand from a whole host of end markets in which GaAs is the enabling technology," he added.
Hoping to Cash In
One publicly traded firm, Emcore Corp. (Nasdaq: EMKR) sells gallium-arsenide solar panels, which are now being marketed in the commercial market. Strong adoption could lead to a meaningful upside in the company's stock, which rose 16 percent during one week last month. The company is working on a project for DARPA to develop solar panels at a low cost. With the price of oil remaining relatively high, energy efficiency is now becoming a national security issue.
The company is developing semiconductor solar cells using gallium-arsenide alloys and metal organic chemical vapor deposition growth platforms in order to demonstrate that the cells can be made in a "low-cost fabrication" environment, said David Danzilio, vice president and general manager of Emcore's photovoltaic division.
"The focus on higher efficiency and lower cost is of critical importance to DARPA," said Danzilio, based in Somerset, N.J., "and will create new possibilities for our renewable energy product efforts." Emcore is the only compound semiconductor manufacturer participating in the DARPA program, which is the largest solar cell program in history.
The "GaAs Industry Forecast: 2005-2010" by Strategy Analytics, a copy of which was provided to TechNewsWorld, also predicts demand for GaAs bulk and epitaxial substrates will grow by 30 to 40 percent over 2006 and 2007, effectively doubling by 2008.
Increasing Complexity
"The increasing complexity of RF front-end module architectures will lead to a significant increase in the overall GaAs real estate in cellular handset front-end modules. This will result in volume demand for substrates growing by over 150 percent from 2005 to 2010," said Anwar.
The industry will see fab utilization approaching 100 percent over the next two to three years, said Entwistle. "Substrate suppliers will need to increase material output and make any necessary investments to ensure that they can continue to meet demand. Otherwise, these suppliers risk losing market share to competitors," he added.