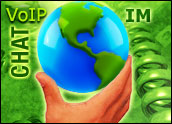 The technology battle between data and voice communications is intensifying, and data appears to have the momentum now. But, experts say, voice may be making a comeback someday soon as industry's favorite application.
A new survey, released mid-October by J.D. Power and Associates, indicates that e-mail addresses have become today's equivalent of yesterday's telephone numbers. Other experts agree, at least as far as business is concerned.
"The preference in business messaging swung away from voice communications to e-mail because e-mail creates a permanent record of a conversation and can be accomplished in virtual time," said Andy Feit, assistant vice president of Adomo, Inc., a maker of Microsoft Exchange applications based in Cupertino, Calif.
Urgent Messages Only, Please
The phone is being relegated to conveying urgent messages, explaining intricate information or for more fun (and personal) conversations, observed Natasha Grach, a spokeswoman for Aplus.Net, a Web hosting service based in San Diego. E-mail allows for organized communication.
"The prevalence of e-mail forms has made the process even more efficient," said Grach. "Once the user completes and submits an e-mail form, it is sent off to the relevant department, and also serves as documentation of the issue in question. When a customer calls in with an issue, additional steps are required, such as transferring the call to the appropriate contact, and then documenting the conversation, afterwards."
But, there are disadvantages to e-mail too. There are problems in trying to convey non-verbal information — intonation, tone, etcetera — via e-mail, said Douglas Raybeck, a professor of anthropology at Hamilton College, based in Clinton, N.Y.
New technologies are emerging, however, that may enhance e-mail, and maintain its advantages for business users. These technologies have "enabled voice messaging with the convenience inherent in e-mail," said Feit. "They will swing the pendulum back toward voice communications, because it's more efficient than text. I can talk faster than I can write. It's easier to express a feeling by voice than by e-mail. Emoticons can't replace voice tone and emphasis."
Voice Mailbox
One technology, developed by Adomo, brings voice-mail to the e-mail inbox. It enables users to sort, to view and to prioritize voice-mail messages, just as they can for e-mail messages today, Feit said. The development incorporates voice-mail into Microsoft Exchange.
These improvements makes voice-mail "aural e-mail, letting you see who has contacted you and then determine which message to listen to first," said Feit. "You can also store voice-mail and pass it along to anyone with an e-mail account."
That means that users of Treos, BlackBerries and Pocket PCs can listen and respond to e-mail whilst driving, rather than trying to tap out a response while stuck on the highway, said Feit.
Security Concerns
Security concerns that wreak havoc on data networks today — including viruses and malware — may appear on voice applications on data networks in the future, experts said.
That being said, voice communications, over conventional or mobile phones, are still growing in some quarters.
"Ironically, a massive amount of voice communication is now moving to mobile devices. Thus, when we are not in the office, voice calls are still a link between workers and their transaction partners at work," said Rita Gunther McGrath, a professor at Columbia Business School, based in Manhattan, N.Y.