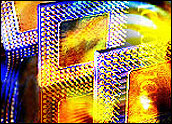 Intel will spend next week drumming up enthusiasm for its dual-core processing systems at its Intel Developers Forum in San Francisco. The company, hot on the heels of AMD, announced it would release a 64-bit Pentium 4 processor for PCs by midyear, ending AMD's sole proprietorship of the 64-bit world, and promised to unveil more details of its dual-core strategy at the forum.
AMD this week demonstrated a dual-core Athlon 64 processor for desktops, workstations and servers — the only x86 architecture dual-core server, it claimed. AMD's dual-core announcement leap-frogged Intel again; the Athlon 64 is due out in the second half of this year, while Intel won't have its dual-core, 64-bit Xeon processors out until the beginning of 2006.
The Only Way To Go
The dual-core architecture — in which two CPUs are built onto one chip andact in tandem — is a requirement if semiconductors are to keep up withMoore's Law.
"The traditional way of making things faster was to crank up the clockrate," Gordon Haff, senior analyst at Illuminata, told TechNewsWorld. "Whatyou basically did was chop the single instruction stream into smaller andsmaller bits. The problem is that physics is preventing us from cranking upthe clock speed — we've hit a frequency and power wall. There's not goingto be a 10 GHz general processor, as Intel was claiming just a few yearsago."
That means that in order to handle the increasing computing needs ofenterprises and home users, dual-core processors, which can handle multiplethreads of a task at the same time, are the only way to go.
No Urgency
But Haff said that consumers need not be in a hurry to upgrade."Most PC users are not pushing the upper limits of capabilities, which ismuch different from 10 or 15 years ago when any PC you bought was not fastenough," he said, adding that the dual-core architecture was a much biggerissue for hardcore gamers or the server and workstation market.
The key difference between rivals AMD and Intel, given that performance andprice numbers aren't available, is the plain fact that AMD's chips will beout first.
"What we can say now is that AMD appears to be coming out with a dual-corechip this summer and Intel is coming out with a dual-core chip in 2006, andthat's a significant advantage," Haff said.
"In most applications, AMDOpterons tend to outperform Intel somewhat. Certainly they have a verycompetitive product today. This summer, you will be able to get twice thenumber of Opteron CPUs at roughly the same price as Intel."
Defining Processor
That's because licensing is likely to be calculated by sockets theprocessors take up instead of the pure CPU numbers. Microsoft hasalready said that it will license its software based on sockets. Most othershave followed, although there are two big holdouts: Oracle and IBM. Theirargument is that each core is a separate processor that can function on itsown. Others argue that when speeds have doubled inthe past, prices have not gone up, nor have licensing fees.
IBM is primarily an Intel shop, with the exception of some high-performancecomputing systems that use Opteron chips. Dell has pledged allegiance toIntel as well, but Hewlett-Packard is happy to sell systems with chips fromeither company and Sun systems contain Opterons.
While the new architecture may be less important for home users, it is notwithout function.
"On the typical Windows workstation, there are a lot of threads going atonce. There's network processing in the background, virus checking, browsersrefreshing. A lot is taking place in the background of a modern PC," Haffsaid.
And once that technology is out there, he added, function is likely tofollow.