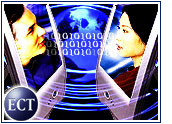 A new study by a researcher at Cornell University indicates people are more likely to be truthful in e-mail communications than in other media or even in face-to-face conversations.
The report, to be unveiled in detail at a human-computer interface conference in Vienna, Austria, this spring, is believed to be the first study to examine truthfulness in communications media.
Research indicates that because e-mail exchanges are saved in the outgoing mail file of most e-mail applications and can be saved in inboxes or printed out by recipients, people are less likely to lie, as their prevarications can be used against them in the future.
The study was conducted by Jeff Hancock, a professor at Cornell. Like many university studies, it employed students as the subjects. Thirty students partook in the project.
Liar, Liar
The researcher requested that students keep a log of their communications for seven days, noting the number of conversations they had face-to-face, on the telephone and by e-mail. The research required the students to note the number of lies they told in each conversation.
The findings:
14 percent of e-mail messages contain lies.
21 percent of instant messages contain falsities.
27 percent of face-to-face meetings are untruthful.
37 percent of telephone calls contain prevarications.
Researchers had presumed, inaccurately, that e-mail message senders would be the biggest liars.
Hancock's research, however, stated the fact that an e-mail conversation is archived, and can be retrieved at any time in the future, was key to the discovery of increased truth-telling online.
Analysts Skeptical
But analysts are still skeptical about the results of the research project.
"This sounds naive, at best, to me," Tina B. Tessina, a licensed psychotherapist located in Long Beach, California, and the author of 11 books, including It Ends With You: Grow Up and Out of Dysfunction, told TechNewsWorld.
"Perhaps business e-mails create more accountability, and there's a lot of research that supports the idea that accountability makes people more honest," she said. "But most people are not thinking of the accountability of the e-mail they're writing."
Tessina said this is demonstrated by the fact that people use pseudonyms online. "This doesn't take into account false screen names, spam or other dishonest communications."
Another expert, BJ Gallagher, a management consultant, told TechNewsWorld that online dating is also likely rife with lies.
Truth Be Told
"Women lie about their age and weight," said Gallagher, who studied ethics at the University of Southern California. "Men lie about their height, their age, their income and sometimes their marital status. It's a jungle out there."
But Hancock's research demonstrates that people are more likely to lie in real-time — for example, in online chat rooms or IM exchanges. Many lies in real-time situations come in response to surprise questions, such as a query as to whether one person thinks another's hair style looks good.
Hancock believes his research might lead to an improvement in communications in the corporate world — and could lead to performance reviews that address employees based on their propensity to prevaricate.