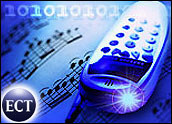 Ericsson and Napster today said they will step into the emerging service of offering music over mobile phones. The announcement follows a deal made public yesterday between Sirius radio and Sprint, in which music-enabled Sprint phones will offer streaming content from Sirius.
Ericsson, the world's leading telecommunications equipment provider, plans to sell a Napster-branded music service that mobile phone providers can offer to their customers. Napster's entire catalog of 1 million tunes will be available. Ericsson said fees for the service, which will be built on Ericsson's mobile delivery platform, will be included in mobile phone bills.
Songs Via E-mail
Customers will be able to download a song from their mobile phone and e-mail it to themselves. When they click the link, the Napster site will launch and the song can be added to their Napster playlist. The companies said they expect the service to be available within a year in some markets in Europe, Asia, Latin America, and North America.
Analysts said that both the mobile music service and streaming radio over a phone must clear major quality and market hurdles.
Ted Schadler, vice president and principal analyst, Forrester Research, told TechNewsWorld he sees five basic problems beginning with the audio quality of mobile phones, which does not compare to that of iPods or MP3 players. "The device would have to be a great phone and great music player to work — and multi-function devices are notoriously bad," he said.
On a practical note, the phone would have to be able to pause music when a call comes in and they do not now.
Cost To Be a Factor
Schadler also said that pricing of the devices and service would play a big role in adoption.
"There is clearly demand for such products and services just as there is clearly demand for cameras phones and iPod/iTunes," Ira Brodsky, president, Datacomm Research, told TechNewsWorld. "The question is whether users will pay extra to download music on their phones. I think the transmission costs will have to be nominal and we aren't there yet."
Schadler said he thinks the Sprint-Sirius alliance has more potential than the Ericsson-Napster deal.
"I would bet that a radio in a phone would be more successful than a music service," he said.
Both agree that it will take some time for this emerging market to shake out and for the technology to catch up to the service offerings.
"Ultimately, the mobile phone will also be a mobile stereo and mobile TV, but in practice years of experimentation and development may be needed to create just the right package," Brodsky said.