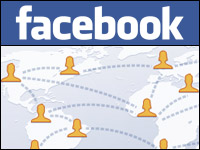 Facebook is trying out a new look in its high-growth markets outside the United States. The version features a stripped-down interface designed to open quickly and be simpler to use, according to the company.
Word of the project leaked Tuesday when some users received invitations to help test "Facebook Lite," but were unable to access the lite.facebook.com URL given.
The test was "temporarily exposed to a larger set of users by mistake," says a company statement provided by spokesperson Larry Yu. "We are currently testing Facebook Lite in countries where we are seeing lots of new users coming to Facebook for the first time and are looking to start off with a more simple experience."
The new interface allows users to check status updates, view photos, accept friend requests, and make comments and write on friends' walls, according to Facebook. That would mean features like video, polls, games and other apps are likely to be suppressed when users choose the Lite option.
All About Access
Despite abundant suggestions that the service is meant to compete directly with Twitter, a bare-bones microblogging service that's ideal for mobile access, Caroline Dangson, a social media analyst for IDC, isn't convinced.
Although she admittedly hasn't seen the interface, "people are a little quick to jump on that," she told TechNewsWorld. "I just think this is more about having a stripped-down version that's easier to access."
The Lite Market
New Facebook users, particularly international users, are increasingly drawn to Facebook for the ability to connect with people, not for the games and applications that have increasingly cluttered the interface, Dangson said.
A stripped-down version could appeal not only to users in developing countries with slower Internet connections, but also to mobile users, and even broadband users who find the current interface too busy, she said.
Lite Would Fit
The move makes sense as part of Facebook's overarching effort to become the preeminent place where people connect on the Internet, Dangson said.
Some people may prefer a quieter, more austere Facebook experience such as the one a Facebook Lite version might offer, she noted, while some may want all the bells and whistles Facebook can throw at them — such as the social media aggregation capabilities it's likely to incorporate in the coming months now that it has acquired FriendFeed.
That service allows users to create customized feeds of content they tag or generate as they travel the Web, then share those feeds in real time with friends.
"They're not trying to go niche, that's for sure," remarked Dangson.
If the Lite option goes live, Facebook would not be the only social networking site to adopt a stripped-down version.
Earlier this year, MySpace began testing a lite version that strips out some customization and features. Like Facebook Lite, it was touted as a way to help international users with less-robust connections access the service.
No word from Facebook on when the new Lite option is expected to roll out for mass consumption.