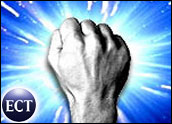 Millions of protesters against the outlaw Colombian group FARC gathered in more than 140 cities around the world to protest its brutal tactics and to call for the release of the estimated 3,000 hostages the group still holds.
FARC has been terrorizing Colombian and foreign visitors to the country for years, kidnapping the famous and quietly rich — or even people of moderate means — for decades as a way to fund their rebel operations. What prompted this outpouring was not a shift in the group's tactics or even disappointment that the latest round of negotiations to free the kidnapped victims has seemingly failed, or at least stalled. Rather, the plan was hatched by a small group of Facebook users tired of the situation.
Oscar Morales, an engineer based in Barranquilla, reportedly launched theNo More Farc movement with five Facebook friends. The group now has some 272,578 members, which networked to eventually produce what is being called the widest international demonstration in history. Besides the 45 cities in Colombia, protests were also held in Edinburgh and London.
Ending the Stalemate?
For years, FARC and the Colombian government were at a stalemate of sorts, with FARC holding onto its hostages — including three Americans and a former Colombian presidential candidate — and the government either unable or unwilling to do much to free them.
Recently, hopes were raised that the situation would shift when Venezuelan president Hugo Chavez was brought in by Colombian president Alvaro Uribe to negotiate with FARC. Chavez has since been dismissed by Uribe, and the hostages' families fear the situation is back in its old holding pattern.
There is some dispute about what impact this protest will have on the hostages' situation and day-to-day living conditions, which are quite grim, according to accounts by former hostages who have been freed.
What the mass protests do make clear, however, is that social networking technology has the potential to organize not just domestic movements — but also international ones.
The Left Online
The left, in particular, is making strong use of the technology, said David Johnson, principal of Strategic Vision, a public relations agency that focuses on political campaigns for conservative politicians in the United States and internationally. "Protests in the United States, for example, have been well organized by Moveon.org," he told TechNewsWorld.
Other examples include the British Liberal Democrats political party, which recently hired an advertising agency to incorporate social media and networking technology into its outreach campaigns. "This was the same agency rejected by the Tories" (the conservative political party in the UK), Johnson noted.
There are a number of reasons why leftist political and populist groups use social media to better effect, Johnson explained, with the right's dominance of talk radio a top factor. "Conservatives, both domestically and internationally, have a monopoly on that," he said. Also, in general, he added, most international news media outlets are owned by conservatives — Rupert Murdoch being a prime example.
Some Limits
There are limits to social media, though, Christine Williams, a professor at Bentley College, told TechNewsWorld. "Social networks like Facebook are not set up to translate online activity to the offline world. It can be done, though — [Democratic presidential candidate Barack] Obama asked his supporters in Iowa to contact their friends to vote in the caucus," she said.
Still, Facebook and other social nets have been the grass roots' best tool thus far for countering the influence of institutions that typically have control of the megaphone.
"It allows people to find each other a lot faster — sometimes within days or weeks — than they have been able to in the past, Williams said. She pointed to such movements asMoms Rising andNot One Damn Dime as examples. The latter, which hundreds of thousands of people joined, was formed to protest President George Bush's 2004 inauguration. Their goal? Not to spend any money on inauguration day.