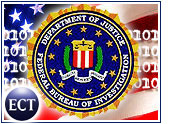 Proposals by the Federal Bureau of Investigation (FBI) and state agencies to use data-mining techniques to track terrorists are floundering, encountering criticism from civil liberties activists and technologists who blast the plans as too "theoretical" and not technically feasible.
The FBI last week petitioned the Federal Communications Commission (FCC), seeking access to high-speed Internet connections, fearful that terrorists could be using Voice over Internet Protocol (VoIP) technologies to evade detection.
The government wants ISPs to change their networks so the packets of data can be tapped and terrorist patterns discerned.
But technology experts say the plans are simply not workable, and civil libertarians note that state efforts to conduct surveillance over the Internet are quickly losing support of policy makers.
'Problematic Proposal'
"FBI proposals to wiretap the Internet are problematic in both implementation and implications," Christopher Getner, CEO of Aaxis Technologies, an electronic discovery tools developer located in Washington, D.C., told TechNewsWorld in an interview.
"The very technology of the Internet, being packet-based switching versus circuit switching, makes the entire analogy of wiretapping flawed," he said. "The Internet is not at all like a phone line to your house, and there are no discrete circuits on the Internet that are uniquely associated to a particular user or location."
Internet data, whether it is transmitted via a digital subscriber line (DSL), cable modem or dial-up modem, mixes and mingles with packets of data from thousands of other users.
"As a result, any surveillance of Internet activity necessarily will encompass eavesdropping on pipelines of traffic of hundreds of nontargeted users to have any chance of successfully observing one 'individual of interest,'" said Getner.
"It is this collect-and-sift methodology that gives both civil libertarians and justices such pause," he noted. "Traditionally, the courts have been reluctant to allow application of such techniques without significant oversight and judicial approval, and I believe this will be the case with Internet surveillance."
State governments are encountering the same problem in trying to implement the Matrix, or Multistate Antiterrorism Information Exchange program.
Getner said private-sector firms — such as credit card companies — have learned that data mining is a complicated, long-term project that requires a lot of hypothesizing and testing.
Too 'Theoretical' for Police Work
"The advantage that private firms have over security organizations is that they are trying to observe high-frequency behavior," said Getner. "You may use your ATM card at a point-of-sale terminal five times a week. If your bank can get you to increase that to seven times per week, through tailored marketing promotion, that is a very successful program. They are using data-mining techniques to marginally predict recurring behavior. Law enforcement, on the other hand, is looking to similar techniques in an attempt to forecast low-frequency, or one-of-a-kind, events, and that is still a theoretical problem."
The combination of legal and technical problems is causing states to "retreat from the Matrix database program," said Getner.
Last week, the American Civil Liberties Union stated that Wisconsin Attorney General Peg Lautenschlager had dropped plans for the state to participate in Matrix, a data-mining project funded by the U.S. government. The project gives law enforcement agencies access to unprecedented amounts of information about U.S. citizens who are not even the subject of criminal probes.
'Out of Control' Project
"The Attorney General apparently has now seen the unintended consequences of participating in this out-of-control project," said Christopher Ahmuty, executive director of the Wisconsin ACLU, in a letter obtained by TechNewsWorld. "Matrix is a project which has more to do with secretly amassing information on innocent Americans than cost-effective, technologically sound law enforcement."
The ACLU had lobbied the attorney general's office, seeking to dissuade the state from participating in the Matrix.
"Hopefully, Wisconsin and other states will learn that the saying 'caveat emptor' applies to them when presented with incomplete and misleading marketing pitches from purveyors of quick fixes for our legitimate concerns regarding terrorism," said Ahmuty.
Law-enforcement expert Robert Seiden, formerly a lawyer with the Manhattan District Attorney's office and now president of a corporation called Fortress Global Investigations, told TechNewsWorld that the government has to adopt a responsible approach to using IT to track terrorists.
"Because of the ever-present and growing threat of terrorism and other security threats to the United States, it is essential that law enforcement be able to adequately investigate possible threats to our security," he said.