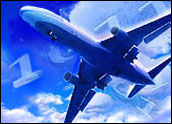 The Federal Communications Commission is interjecting itself into a long-standing argument over the safety of using electronic devices during flights. Chairman Julius Genachowski sent a letter to Michael Huerta, acting administrator of the Federal Aviation Administration, calling for an expansion of the permitted use of tablets, e-readers, and other portable devices on flights. The letter was obtained by The Hill, which first reported the proposed policy change.
Among the arguments Genachowski reportedly made was that these devices "empower people to stay informed and connected with friends and family, and they enable both large and small businesses to be more productive and efficient, helping drive economic growth and boost U.S. competitiveness."
The FCC and the FAA did not respond to our requests to comment for this story.
Natural Advocate
The FCC is actually a natural advocate on this issue, Daniel Castro, senior analyst with the Information Technology and Innovation Foundation, told the E-Commerce Times.
"It is becoming increasingly evident that the FAA will not look into these rules on its own, and it is understandable why that is," he said.
The FAA doesn't really have an incentive to do so, as its main concern is safety and not the promotion of electronic devices or improving the flyer's experience, noted Castro.
On the other hand, the FCC does have a stake in this issue.
"It regulates the use of spectrum," Castro pointed out, and thus is not breaching boundaries by making its case.
Still, the letter is a rare if not unprecedented step for the FCC, industry analyst Jeff Kagan told the E-Commerce Times. "The FAA may have asked the FCC for its opinions or referenced its studies or reports, but the conversation about this subject — in public at least — has always been initiated by the FAA."
With the FAA unquestionably the lead agency on this issue, it is unclear whether the FCC's letter will accomplish anything.
Even if the FAA should make greater allowances, the airlines could issue rules on their own initiative that would ban the use of electronic devices or cellphones during takeoff and landing, Castro pointed out.
A Consumer Issue
However, it's more likely that if the issue were left in the hands of the airlines, they would lift the ban on electronic devices like e-readers. Having something to do while a plane is standing still on a runway can keep fidgety passengers calm. Also, as a few choice celebrity meltdowns have illustrated, people get frustrated when they have to put away their electronic toys for no obvious reason.
Last December, actor Alec Baldwin made a scene on a American Airlines flight when he was asked to put away his smartphone prior to takeoff. He reportedly refused, then got up to finish his Words with Friends game in the bathroom, slamming the door so loudly the pilots could hear it in the cockpit. Baldwin was escorted off the plane.
"Increasingly, electronic devices have become part of our everyday lives," Castro said. "It feels like deprivation if we are asked to turn them off for what could be a long period of time."
The Safety Issue
Should consumers' desire for convenience outweigh safety concerns? Of course not, but there is ample evidence that using e-readers and tablets does not affect flight technologies.
"The historical data says it isn't a safety issue," Castro said. "Early on there were reports of interference, but that was in the late 80s and early 90s."
Many of those early reports were based on one-off incidents, he said.
"We have all been on flights were some passengers didn't turn off a device for takeoff or landing and nothing happened," Castro noted.
Cellphone use remain subject to the takeoff and landing ban, but it would most likely be to accommodate passengers who want some peace and quiet, Castro said. "I don't think anyone wants to be trapped next to someone on an airplane having a loud conversation."