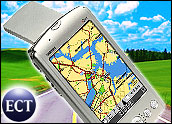 Garmin International today released its iQue 3600 PDA — the first PDA on the market to integrate global positioning system (GPS) technology off the shelf. The device will be available through electronics retailers and traditional Garmin dealers within the United States at a suggested retail price of US$589.
"By using the PDA acronym rather than the full name, 'personal digital assistant,' we often lose track of where this class of product is going," Forrester research fellow Rob Enderle told TechNewsWorld. He said he believes the next step in the evolution of handheld technologies will follow Garmin's iQue in integrating GPS location and navigation capabilities.
"GPS can now help us get where we are going," he noted. "Within 10 years, I believe every device that falls into this class will have navigation functionality because that is clearly on the evolutionary path for the PDA."
Headed Where
Traditionally, users have had to upgrade their PDAs with a special GPS card to enable real-time mapping capabilities — and have had to spend upward of $100 just for the extra card. However, Garmin's new iQue comes with a built-in GPS navigation mode that runs the same software that powers Garmin's flagship dashboard unit, the Streetpilot III, which was for years priced above $1,000 and therefore was out of range of many potential buyers.
The iQue 3600 is the first PDA on the market to feature a built-in GPS antenna and integrated turn-by-turn navigation software in a standard PDA form factor. Using Palm OS 5, it combines Garmin's proprietary Que technology with the Palm OS Address Book and Date Book. The integrated result is that users can look up an address or appointment on their iQue 3600 and navigate to it using the mapping function, following turn-by-turn, voice-guided directions to their destination.
The iQue 3600 marks the first in a series of Garmin's planned future products that will combine the company's location technologies with mobile-computing platforms. "This handheld creates a new utility in the PDA market by integrating organization and navigation into a single device and bringing the benefits of GPS location technology to PDA users," said Gary Kelley, Garmin director of marketing.
Research Shift
The iQue uses a 200-MHz ARM-based processor and 32 MB of memory. The device also comes with a built-in digital audio player, a voice recorder, a Secure Digital expansion slot and a lithium-ion rechargeable battery. The color display has a resolution of 320 x 480 pixels.
To begin GPS mapping with the iQue, users simply flip up the antenna and launch the Garmin navigation software.
In a prototype showing at the Consumer Electronics Show earlier this year, the iQue 3600 earned the prestigious "Best of Innovations" award in the mobile office category, winning acclaim for its form and function.
Based on perceived market potential, Garmin has shifted its R&D focus from CDMA and follow-on GSM handsets to devote more engineering resources to developing products based on mobile-computing platforms, including those enabled with Bluetooth technology, GPS and other wireless capabilities.
Innovation Sells
Recently released data from research firm IDC indicates that handheld shipments decreased worldwide in the second quarter of this year, due in part to sluggish buyer demand and a traditionally slow selling season. According to IDC, shipments were down 10.7 percent to 2.27 million handhelds.
Analysts have attributed the steady decline in the PDA market to a lack of innovation, which is limiting the reach of the devices and restricting growth beyond the enthusiast crowd to which handhelds currently cater.
"We would like our devices — our personal assistants — to help us stay in touch, help us get around and help us manage our day-to-day lives," Forrester's Enderle told TechNewsWorld. "In its initial form, the PDA only helped us manage our day-to-day lives; more recently, it began to become a communications device, but it does not yet communicate for us."
PDA manufacturers have been struggling with this limitation by trying to add new kinds of features — from multimedia applications to built-in wireless networking capabilities — as they look to revive what was once one of the most promising product categories in the technology industry. GPS capabilities seem to be the next key step in the PDA's evolution.