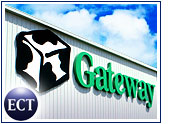 Even in the aftermath of a major announcement about shutting all its retail stores, Gateway continues to push new products, this week launching a new line of managed and unmanaged Layer 2 network switches designed for small businesses.
The Gateway 7200, 7400 and 7600 Series products, based on Broadcom's switch technology, officially mark Gateway's entry into the networking market, building out an enterprise systems portfolio that already includes Gateway servers and storage-management software.
"Gateway is building out its comprehensive line of systems and networking products to provide a complete solution to customers," said Maximilian Flisi, IDC research analyst for enterprise networks. "These new switches will serve as an effective add-on sale, although Gateway's managed line is priced competitively and may be a lead purchase driver for many customers."
Network Switching
"Larger file sizes, Voice over IP and gigabit NICs in desktops and notebooks are all driving a fundamental change in organizations from 10/100 to gigabit speeds," said Scott Weinbrandt, senior vice president of Gateway's Enterprise Systems Division. "And it's critical that their network switches don't become bottlenecks."
The Gateway 7200 and 7400 series of switches provide switching for 10-, 100- and 1,000-Mbps network clients. The 7200 Series family ranges from the entry-level 7201-16, priced under US$100, to the higher-end 7201-24.2. On the high end, Gateway's 7600 Series switches are more expensive than those in the 7200 and 7400 families, but offer built-in Simple Network Management Protocol (SNMP) to provide network control, regulate traffic and eliminate bottlenecks.
The 7600 Series offers both the 24-port 7601-24.2, a 10/100 switch priced at $399, and the 48-port 7601-48.2, a 10/100/1000 switch priced at $799. Both products support 8,000 MAC address table entries, Internet Group Management Protocol (IGMP) snooping, port trunking, port mirroring and other bandwidth-control features. Gateway will launch an additional line of managed switches later this year for larger networks.
WLAN Flim-Flam
In a separate announcement, Gateway released the Gateway 7000 Series of wireless access points, which offer built-in Radius configurability, multiple mounting brackets, an automatic wireless distribution system and power-over-Ethernet capabilities.
Available in single-band (Gateway 7001 802.11g) and dual-band (Gateway 7001 802.11a+g) options, the new Gateway access points are designed to provide access between all wireless clients and the local area network. Both types of access points feature an Intel IPX422 processor, Web-based configuration software and virtual LAN (VLAN) support.
In addition, the access points offer two 10/100 ports, so users can create both internal and guest networks on the same access point.
Disruptive Approach
"In both their price and functionality, Gateway is taking a disruptive approach with these two new wireless [access points]," said Peter Kastner, executive vice president and chief research officer at Aberdeen Group. "Many wireless vendors are ignoring the pleas of small- and medium-sized businesses, who desire enterprise security and much more simplicity in setup. SMBs clearly stand to benefit from these new Gateway [access points]."
The Gateway 7000 series access points are compliant with IEEE 802.11a, IEEE 802.11b, IEEE 802.11g and IEEE 802.11a turbo wireless networking standards. Under typical network conditions, according to Gateway, they will provide bandwidth of up to 54 Mbps for IEEE 802.11a or IEEE 802.11g, 11 Mbps for IEEE 802.11b and 108 Mbps for IEEE 802.11a turbo. The access points are also WiFi certified.
Pricing for the Gateway 7000 series starts at $299, while the Gateway 7001 802.11g and Gateway 7001 802.11a+g start at $399.