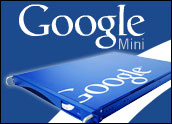 Google has added new security and search features to its smallest search appliance, the Mini, which is designed for the small and medium-size business market.
The latest Mini, version 2.2, now has some features previously available only on the company's Search Appliance, Kevin Gough, enterprise product manager for Google, told TechNewsWorld, and its existing intranet and Internet search and information retrieval programs have been enhanced.
"We are focused on bringing enterprise features previously only available for up-market solutions to small and medium-size businesses," Gough said.
The Google Mini is an integrated hardware/software search appliance that indexes all content within a company's intranet and on its public Web site.
Secure Search
The upgraded Mini has a few new security features including the ability for administrators to access settings for users and documents pre-established in Windows' NTLM (NT LAN Manager) authentication protocol and Active Directory, according to Google.
The software is also compatible with leading security standards and enables administrators to cordon off from search such sensitive information as financial records or legal documents, said Gough.
"Even smaller businesses have information they don't want accessible to everyone," said Gough.
Improving Search Inside and Out
Google Mini now also includes a major search upgrade with the addition of the OneBox feature, which lets the search engine identify the intent of queries, while compiling and presenting top search rankings.
"That means you can search CRM (customer relationship management), ERP (enterprise resource planning) and business intelligence applications based on a Google Mini search query," stated Gough.
OneBox for Enterprise provides secure access to everything from inventory levels to sales trends and financial reports, he noted.
Improved Efficiency
The Google Mini 2.2 also has new features designed to improve search efficiency for a small business' public Web site or e-commerce operation, according to Gough.
The appliance can be integrated with Google Analytics to track traffic and navigation patterns.
"We're able to leverage the work of the greater Google for small businesses," he commented.
Although the original Mini, introduced in January 2005, was optimized for use of up to 50,000 documents and costs US$5,000, the latest editions are scaled to handle up to 300,000 documents and cost anywhere from $1,995 for 50,000 documents to $8,995 for the top-of-the-line system.