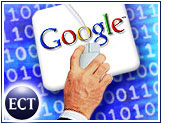 The Wikimedia Foundation, the nonprofit organization that operates the Wikipedia project among others, said Google has offered to host part of the free encyclopedia's content.
Wikipedia's entries are written and edited in an open-source, collaborative fashion by members of the online community. It is growing rapidly and needs more server space and bandwidth to maintain that growth.
Lips are Sealed
Google spokesperson Nate Tyler would give only the following statement when TechNewsWorld requested information on the offer:
"While we don't have anything specific to announce today, Google and the Wikimedia Foundation are collaboratively evaluating creative ways to support Wikipedia.org and its community."
The foundation posted a short announcement on its Web site, which said that the terms (as yet undisclosed) were being considered by the Wikimedia board and that the group would meet with Google sometime in March.
The notice also made it clear that the terms of the offer did not require the Wikipedia to include advertising.
Encyclopedia Google
Google searches already access Wikipedia and other Wikimedia resources through the services that host the organization's content, but some have speculated that Google wants the encyclopedia content to compete with MSN Search's Encarta content and Yahoo, which accesses the Columbia Encyclopedia.
Yahoo already has an arrangement with Wikipedia. According to the foundation's site, the deal made last spring "added them as one of the search engine widgets offered for Web/Wikipedia searching when our internal search goes down, and we also provided them with a feed of our articles (something we needed to do anyway).
"In exchange, we were apparently linked more prominently, or more effectively, in their searches, and have access to stats on how many clickthroughs we get from them. It's not clear how we were linked more prominently, but clickthroughs increased by a factor of 3 in the months after this agreement (and then leveled off). No extensive contact since then."
Most of Wikimedia's site hosting is paid for by the foundation. Several different Internet companies also provide support.