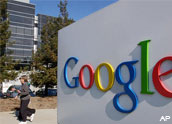 With its hiring of Internet pioneer Vint Cerf last week, Google proved again that it has the cachet to lure great minds. Google anointed Cerf "chief Internet evangelist," but announced no specific duties to go with the title, saying only that he would "help Google build network infrastructure, architectures, systems and standards for the next generation of Internet applications."
Cerf, who will start at Google on Oct. 3, worked in the 1970s to help design TCP/IP (Transmission Control Protocol/Internet Protocol), which created a means to link independent networks into one big Internet.
"I have known and admired [Google CEO] Eric Schmidt for over 20 years, and we quickly realized that we had very similar visions of what Google could become in the information space," Cerf told TechNewsWorld in an e-mail. "The company is young, dynamic, fearless and filled with creative energy. I will learn much from them and I hope I can contribute from my own experiences."
Truly Major Contributions
Those experiences are formidable. Cerf worked on ARPANET as a graduate student at UCLA. After co-developing TCP/IP with Robert Kahn in the mid-'70s, he went on to the U.S. Department of Defense's Advanced Research Projects Agency (DARPA), where he led the development of Internet data packet and security technologies through 1982, when he began his first stint with MCI. He has also served as president and chairman of ICANN (Internet Corporation for Assigned Names and Numbers).
He had most recently been at MCI for 11 years and leaves the company as senior vice president of technology strategy.
Cerf said he will continue to work on the Interplanetary Internet project at NASA's Jet Propulsion Laboratory (JPL). The project aims to do for interplanetary communications what TCP/IP did for intraplanetary communications. Cerf will also stay on as an ICANN board member.
The Force Is With Him
Jupiter Media analyst Gary Stein said Cerf, 62, will bring wisdom to Google.
"Vint Cerf has been thinking about the Internet maybe longer than anyone else. As they grow and begin to stretch their influence, Vint may provide them with some good long-term leadership. It's usually good to have some of the old-hand-techies around a young company like Google, so they don't re-invent and re-fail, but are always focused on the new," he told TechNewsWorld.
Stein said Cerf's presence is likely to attract other talent.
"It's like working for Yoda," he said.
While Cerf said he is eager to get back to the hands-on development of applications, Google did not reveal more than that.
"I would expect that Google will ask Vint to think about how Google might become more than just a service, but potentially a network of information itself," Stein said.