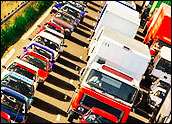 Part 1 of this series explored the potentially dangerous distraction that in-car GPS use may pose for drivers.
These days, it seems GPS units are everywhere — built into cars, mounted on dashboards, strapped to bicycles and even loaded into the cellphones we carry in our pockets.
In fact, by 2015, more than half of all new cars sold in the North America and Europe will feature either built-in GPS units or the option to hook portable units directly into the car's computer, according to research firm Strategy Analytics. There's a growing battle between manufacturers of dedicated portable devices and GPS-equipped cellular handset makers for the rest of the market.
What happens there could have serious implications for driving safety worldwide.
While GPS units are generally considered less distracting than many other in-car technologies that require constant attention, like text messaging, the rising interest in cellphone-based GPS could change that equation.
Research has shown that a key factor of in-car distraction that raises the risk of crashing is how long drivers have to take their eyes off the road to complete the task. To address this, newer GPS units, especially the ones built into car dashboards, either don't allow drivers to manipulate the unit while driving or are designed to make entering commands easier and less distracting.
However, few cellphones feature such technology to date, and their smaller screens, buttons and other configurations make them more difficult to manipulate safely while driving.
Here's a look at various GPS configurations and the potential safety implications of each.
Built-In Services Such as OnStar and Ford Sync
GM's OnStar's combination of a built-in GPS and voice communications unit comes on 50 GM-brand vehicles. It allows drivers to press a single button, speak to an OnStar adviser and get turn-by-turn directions downloaded to their vehicles.
Ford's Sync technology comes on 19 models, according to the company's Web site, and allows drivers to get access to traffic information and directions via a voice command.
The advantage of such systems is that drivers may not need to ever take their eyes of the road, said Charlie Klauer, a senior research associate at the Virginia Tech Transportation Institute.
"It's the systems that are already onboard the vehicle, like OnStar, that are totally voice-activated, truly hands-free, that are the safest," she said. "They pretty much require only one button press, those are actually found to be pretty safe."
Original Equipment Units
About 1.6 million cars made for the North American market in 2007 were equipped with manufacturer-installed GPS systems. That's about 11 percent of all cars made that year. In Europe, 2.2 million cars came with GPS built-in, also 11 percent of the market. Japan had the greatest penetration at 3.8 million units, or 37 percent of production.
These types of units tend to have relatively large screens, custom controls for driver convenience, rule sets that lock out drivers from inputting addresses while the car is in motion. They also often feature voice-activated commands.
Units equipped with the ability for users to enter destinations by speaking them typically require only one button push to activate.
Many built-in units have such technology, but some portable units do as well, such as the Garmin Nuvi 855. That unit allows users to establish routes to nearby points of interest or input new addresses while driving using a strap-on steering wheel remote to activate voice commands.
Some portable units don't even require users to push any buttons. Magellan's Maestro series includes the ability to place the unit in a listening mode by saying the word "Magellan," then speaking any of a number of menu commands that will set the device to navigate the driver home, to nearby services or points of interest.
Portable Devices
Dash-mounted portable GPS units have long accounted for the bulk of the market in GPS units, with 16 million units sold in North American in 2007 and 14 million in Europe. Shipments of portable devices are forecast to reach 30 million units in North America by 2015 and 27 million units in Europe.
Such units can be moved from car to car and many can even be used on foot. They're typically mounted to the dash or windshield using suction cups.
Such units range widely in price and features, with an increasing number of options in the US$100 range, though some top $400.
Units on the lower end of the price range don't tend to have the same features lauded by experts as safety factors, such as large screens and voice recognition commands.
However, virtually all are built to industry standards designed to reduce the amount of time drivers spend looking at the GPS units instead of the road, said Paul Green, a professor at the University of Michigan Transportation Research Institute who helped write the standards.
The standards limit that time to 15 seconds, he said.
However, it's worth noting that any amount of time a driver's eyes are taken off the road is dangerous, increasing the risk from such devices. Klauer said her institute's research has shown that a driver whose eyes wander from the road ahead for more than two out of any six seconds is at double the risk of an accident compared to a driver whose eyes stay fixed on the road.
Cell-Based GPS
The arrival of GPS functionality on smartphones like the iPhone heralded a new age in demand for navigation services.
Such phones represent a sort of digital Swiss army knife capable of communicating, entertaining and navigating.
GPS is finding its way into more phones in part due to federal safety regulations seeking to make it easier for public safety workers to locate callers in need. The demand is growing immensely, according to Strategy Analytics.
Such phones feature applications that offer GPS navigation capabilities. The iPhone, for instance, has a built-in Maps feature that superimposes the user's location on a Google map. It can fetch directions from Google on request, but it doesn't do traditional turn-by-turn routing. Recently added apps from companies like European GPS manufacturer TomTom and Navigon that retail for as much as $99 offer an experience more like a standalone system. TomTom is also planning a windshield mount and recharging system.
While GPS-enabled services are in high demand, they've raised questions about saftey. The relatively tiny screens of cellphones means roads are harder to distinguish, said James Jenness, a researcher at Westat who has studied GPS adoption and satisfaction by young and older drivers.
Their speakers also aren't as robust as voice-enabled standalone units are, meaning it can be more difficult to hear upcoming turn instructions. Because most users tend to carry the phones in pockets or hip cases, they may be more likely to hold the phones than mount them on the dash — meaning they are taking their eyes further from the road and for longer.
Peering at a GPS application cellphone in your lap or in the seat next to you is likely no less dangerous than using the phone for texting, which Klauer's institute recently reported is 23 times more dangerous than undistracted driving.
"Any of those systems you bring into your car, if you're truly concerned about your safety, you'll mount them on the dash," Klauer said.