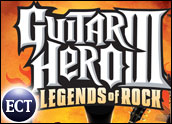 Computer geeks who've quietly longed for the ability to play "Guitar Hero" on their PCs and Macs can stop fretting. A company plans to release a personal computer version of the addictive pseudo-guitar-playing game, currently available only on video game consoles.
Austin, Texas-based Aspyr Media said it has partnered with Activision to create a PC/Mac version of "Guitar Hero III: Legends of Rock," the latest version of the music play-along game.
The company said the product will be released in the fall.
Push-Button Rock Stars
In "Guitar Hero," players press color-coded buttons on a guitar-shaped controller, attempting to do so in synch with a steady stream of colored dots that scroll toward them on the screen in time with popular rock songs. When the player presses the buttons on time, the song plays seamlessly; but when he or she misses a note, a "clink" sound is heard and the audience shows its lack of appreciation.
There are several difficulty levels and players can develop rock careers as they become more adept. The console version of "Guitar Hero III: Legends of Rock" — the fourth "Guitar Hero" title — is expected to be released in October. It will be the first in the series that will allow online play in which gamers can compete against, or play along with, others over the Internet.
They Will Rock You
The PC and Mac versions will also enable online interaction or, as Aspyr gushed, it will "allow PC and Mac enthusiasts to rip head-to-head against players around the world and across either platform, raising the level of competition for true legendary rock status."
The computer versions will also match the console games' "explosive new content and features," said Aspyr. These will include a multiplayer battle mode, boss battles, lots of content that can be accessed as gamers improve their skills and more "visually stunning rock venues" as backgrounds.
The company said the game will include more than 70 songs in the "set list." With current "Guitar Hero" titles, most of the songs are covers, not originals, and are described as having been "made famous" by the real artist. The new "Guitar Hero" will feature "more original master tracks than ever before," Aspyr said.
Little to Lose
"Guitar Hero" has been a blockbuster hit, and NPD gaming analyst David Riley said coming out with PC and Mac versions makes good business sense.
"It's a no-brainer," Riley told TechNewsWorld. "Why not? It's not like they're completely re-developing the title for the PC or Mac. The game engine is already there. It's not a heavy investment … so it makes sense to attempt it."
The "guitar" in the computer version will be connected with a USB cable. Riley noted there are very few PC/Mac games that come with such accessories. "That is going to be interesting," he said. "I've never seen anything like this on a personal computer and it will be very interesting to see how it plays out."
Party at my Desk?
Few gamers alternate regularly between computer games and console games, Riley noted. It's usually one or the other.
A PC/Mac version of "Guitar Hero" will broaden the audience for the game by bringing in the computer game advocates, said Parks Associates gaming analyst Michael Cai.
"Bringing 'Guitar Hero III,' a highly successful console franchise, to the PC and Mac platforms will potentially open up the untapped PC gamer audience and allow console gamers to play their favorite game on the go," Cai told TechNewsWorld.
However, one of the big reasons "Guitar Hero" is so popular is the fact that it's often part of a social experience where people mingle in sound system-equipped and big-screen TV-enhanced living rooms, and even bars, to interact and play. How many people will gather around a home computer or laptop to do the same?
"Playing the game on a monitor will be a very different experience from doing it on a beautiful flat screen," said Cai. Aspyr needs to address the challenge of enabling an enjoyable 2-foot experience in order to make the launch a success."