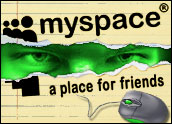 A pair of hackers arrested last year for trying to extort US$150,000 from MySpace.com have struck a deal that will spare them jail time. The two pleaded no contest in a Los Angeles court to the lesser charge of illegal computer access.
Prosecutors agreed to drop extortion charges that could have resulted in four-year jail terms. Instead, the defendants, Shaun Harrison, 19, and Saverio Mondelli, 20, both of Suffolk County, New York, received three years probation.
The hackers demanded the money as a "consulting fee" from MySpace, a News Corp. subsidiary, in exchange for halting distribution of code designed to track MySpace users, according to the prosecution.
Tracking Viewers
The popular MySpace social networking site is designed to allow users to post profiles with photos, music and videos, while offering anonymity to visitors who browse the pages.
However, the hackers claimed to have developed code that tracked visitors to the world's most popular social networking site and had begun offering it on their own Web site for $29.95.
The program collected e-mail addresses and Internet Protocol addresses of MySpace visitors, which could have been used by anyone trying to locate them — even for nefarious purposes.
MySpace blocked the code after it was discovered.
Selling Access
"Two things to remember are they got caught, and not everyone is going to get caught," Rob Enderle, a principal analyst with the Enderle Group, told the E-Commerce Times. "In every likelihood, there's more code out there that tracks where you go — installed in everything from key loggers to tracking software."
In fact, Enderle pointed out, the hackers sold several versions of the code to computer users, who then could apply it to their own MySpace profiles. That type of traffic-monitoring violates MySpace rules.
"Selling information to third parties is a big problem," said Enderle. "Just because these guys were caught doesn't mean the problem isn't still out there."
Cease and Desist
After receiving an e-mail cease-and-desist order from MySpace, the two men replied, "We will neither cease nor desist." They later offered their "consulting services" to the company and moved out to Los Angeles to further negotiations.
MySpace executives and law enforcement officials saw the negotiations as an attempt to extort the company.
In addition to placing the men on probation, the plea deal restricts their access to computers and requires that they perform 160 hours of community service and pay MySpace $13,500 in restitution.