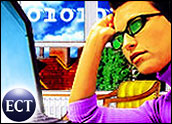 Harvard President Larry Summer's comments that "innate differences" account for some of the reason women don't succeed as often as men in science careers shines a light on a problem that most in the world of science and technology are keenly aware of.
The university president, dutifully repentant, on Thursday appointed two task forces to try to rectify the problem. One will examine women's role in the faculty, and the other will try to create more opportunities for women in science and engineering. The groups are to present their recommendations in three months.
Organizations, Industry Efforts
Harvard joins many other organizations — from elementaryschools up through universities and from non-profits to big businesses — seeking to encourage and nurture girls and women who want to be or are scientists, engineers and IT professionals.
The Association of Women Scientists offers mentoring and scholarships and conducts research on women in science. Hewlett-Packard, IBM, Intel and Microsoft, among many others, have corporate efforts to encourage girls to pursue science and technology careers.
Despite these efforts, women make up only about one-quarter of the science and technology workforce, according to Commission on Professionals in Science and Technology, although they received more than half of thebachelor's degrees, 44 percent of the master's and 37 percent of the doctorates in 2001. The commission also found that the proportion of women in computer science fields dropped from 30.5 percent in 1983 to 27.2 percent in2002.
Programs for Girls
The Massachusetts Institute of Technology runs a Women's Technology Program as part of itsDepartment of Electrical Engineering and Computer Science. The program is designed for girls with demonstrated mathand science aptitude who are entering their senior year of high school. It wasstarted by a male graduate student in 2002 because even at MIT, which has afemale president and an incoming freshman class that is 43 percent female,no women were majoring in electrical engineering or computer science.
Cynthia Skier, director of the Women's Technology Program, was an undergraduate atMIT in the 1970s, and then the situation was even worse: The school capped the number of women who could attendbecause it had limited housing for women.
"They [women and girls] have a lack of experience with engineering in high school, and thereare very negative stereotypes about the field," Skier told TechNewsWorld.Girls, she said, perceive engineers and computer scientists as people whowork alone on obscure problems.
"They see it as technology for technology's sake. They don't know how it'sapplied," Skier said.
Part of the job of the program is to show girls thatengineering work has meaning and can benefit people as much as a career inmedicine. She said, for example, "You can be a mechanical engineer and design a new prosthesis."
While Skier said there is much work to be done, she was optimistic that thereaction to Summer's comments would help level the playing field.