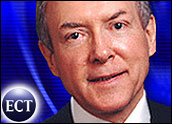 Sen. Orrin Hatch (R-Utah), once nicknamed "Terminator" for his 2003 comment thatthe recording industry should be allowed to remotely destroy the computersof file-sharers, was named today to head a new Senate subcommittee onintellectual property.
While Hatch backed down slightly from that comment the next day, saying, "I do notfavor extreme remedies — unless no moderate remedies can be found," he hasremained a staunch ally of the entertainment industry.
Let's Hatch Press Agenda
The formation of the subcommittee within the Senate Judiciary Committee wasexpected. Hatch was forced by term limits to step down as the committee'schairman at the end of the last legislative session. Sen. Arlen Specter(R-Penn.) now heads the committee and appointed Hatch to the subcommittee,which will be responsible for copyright, trademark and patent law, andinternational treaties intended to protect American IP. It allows Hatch tocontinue to press the entertainment industry's agenda.
"What the subcommittee does is add another layer, but it doesn't change whathappens," said Art Brodsky, communications director at Public Knowledge, adigital rights advocacy agency. "Everybody still recognizes the enormousinfluence that Mr. Hatch has over IP issues."
The ranking Democrat on the committee, Patrick Leahy of Vermont, has been anally of Hatch's in the past. The two last year introduced the "Induce Act,"which was aimed at peer-to-peer networks but was worded so broadly some said itcould outlaw the ubiquitous iPod. It would have held technology companiesliable for any product that might "induce" consumers to make illegal copiesof IP, such as music, movies or software. The act failed to pass last year and has not been reintroduced thisyear.
Stakes High
Brodsky held the "Induce Act" up as an example of what's at stake in thebattle over digital rights — the ability to design new content products andways of delivering content to consumers.
There won't be much change in either the battlegrounds or the pace at whichit proceeds because of the subcommittee, whose remaining members have yet tobe named, Brodsky believes. He said that Public Knowledge would continue toadvocate for fair use and work to oppose restrictive legislation.
"We have reason and logic and right on our side, but we're just mere mortalsgoing up against the entertainment industry," Brodsky said. "The goal is notto give the content community control of everything, as they wish."