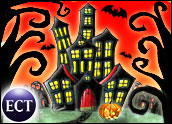 Boo!
Lurking behind that spooky haunted house — whether it be next door or at the local amusement park — are embedded computing devices and other bits of engineering magic that, while not the highest tech gadgets on the market, sure come in handy when the Jedis, ninjas, princesses and witches come around on All Hallow's Eve, a.k.a. Halloween.
Both Leonard Pickel, who runs HauntCon, an annual tradeshow and convention for haunted attractions, and Dennis Griesser, a computer programmer who has become haunted by decorating his Southern California home each year, agree that the key that unlocked the floodgates for their spooky alter egos was their first, inexpensive fog machine. Yes, it's not at the top of the high-tech hit list, but what's a haunted mansion without one?
And indeed, no longer do haunters have to rent used theatrical machines, scour yard sales or build their own mist-maker. Now the foundation of fear can be had for a double sawbuck.
"Twenty years ago, you'd pay US$200 for a used fog machine. Now it's $20," Griesser said, adding, "the technology is not rocket science."
Fog Rolls In
It may not be rocket science, but there is at least one Web site — Got Fog — dedicated to the science of creating different effects with that cheap fog machine. Once the mood is set, the sky's the limit on an ever-expanding desire for bats, black lights and witches' brews.
Griesser's obsession began small, with a retrofitted talking Christmas tree in 1997. The speakers, he discovered, accepted external input, and he was off and running. He hid the tree with microphone and inset speakers along the walkway to his house. With closed circuit TV, he watched for unsuspecting visitors following the glowing footsteps to his door. As they passed the tree, all heckling broke loose as Griesser spoke into his remote mike, thus scaring and delighting the trick-or-treaters, and beginning a tradition.
That tradition has grown into a year-long effort, an extensive designing and engineering project Griesser works on with his friend, Dave Harmon.
No Mysteries Here
Their secret ingredient? Well, it's not really a secret. Griesser is happy to show everyone the man behind the curtain; he operates an exhaustive Web site with detailed plans for all his designs.
It all comes down to a little home automation system called X10, used by many home haunters. With a bit of fiddling, X10 will remotely control just about anything mechanical that a person wants to turn on and off. That's very handy for lights, or, say, the giant animated spider that sits on the roof. This one is on Griesser's roof, and it could lurk atop anyone's home with the proper application of an air compressor, PVC pipe, plywood, muslin, LED for the glowing eyes, mulch bags for weights and X10.
Put all together, this collection of gadgetry and Home Depot products becomes a creepy, crawly moving spider, a beast whose roots are eerily similar to the much more sophisticated animatronics professional haunters use to lure those who enjoy being scared.
Believe it or not, tradeshow HauntCon's Pickel said the automated moaning zombie who reaches for those who dare venture into a professional haunted house is related to the bear family — the bears of the Country Bear Jamboree, that is. Disneyland's wholesome, smiling family fare gets turned on its head to serve the Dark Lord, or at least to grab the Halloween entertainment dollar.
The technology that Disney's Imagineers developed for their attractions are also used by designers to create characters with names like "the Impaler" and "the Thrashing Hag." These props cost thousands of dollars each and are made by one of the biggest manufacturers of high-tech Halloween gadgetry, Scare Factory. Distortions Unlimited also engineers characters, settings and props for the industry that sends people running — and these, too, run for big bucks.
Computer Controlled Specters
Griesser said the next step up for home haunters is to go to Parallax, Inc., makers of BASIC stamp microcontrollers, tiny little devices that can easily be hidden inside a prop. Using Parallax's technology is a bit trickier than X10, though, Griesser said.
"There are lots of barriers," he said. "You have to do electronics, select and figure out how to operate a computer and learn how to program it. None of these things are insurmountable, but it scares people."
When designing creatures, Griesser offers another bit of advice. He recommends LCD lights instead of LEDs — the latter need resistors to limit their current.
"LCDs can be made very small, they use very little power, they come in many different colors and they're very inexpensive," he said. "I'm shocked at how many haunters have gone gaga over using LEDs in the eyes of masks, etc."
Same Guts and Bolts
Delving into the realm of the Halloween haunt, it becomes clear that there can be a very fine line between being a home haunter, who spends hundreds of dollars and hours tinkering, and the pro haunter.
"The fastest growing segment of the industry is the home haunter," Pickel said. "Some spend a huge amount of money and time, and then graduate to doing their own haunted attractions," turning a pastime into a business.
Be they created by a home haunter or professional, all these scary monsters require pneumatics, animatronics and some type of remote control device in order to get going. But Pickel and Griesser also agree on one more key point: It is the human factor that makes the difference, allowing these mechanical spirits to really come to life.
"One of the things that I do differently when I use an animation or pneumatic pop-up is I give it to a live actor to make it move. Scaring people is all in the timing," Pickel said. "A robot doesn't know where the people are looking or what the makeup of the group is. By giving the firing button to an actor, I can increase the scare factor, because of the timing."
"My wife and I share the remote," Griesser said. "The fun part is waiting until the right moment to hit the button. Plus, we don't want to scare the little ones."