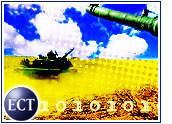 Back in the 1950s and 1960s, at the height of the Cold War, work on federal contracts fueled the development of the high-tech industry, from communications satellites to mainframe computers.
However, from the 1970s to the late 1990s, long after the initial government-funded push had faded, the computer industry's main source of revenue came from developing business and consumer markets through channels like the personal computer, client-server networking technologies and, eventually, commercialization of the Internet.
But with consumer and business technology spending down from the historic heights of a few years ago and only now starting to rebound, computer companies once again have looked to the government for work to keep their software developers and hardware engineers busy.
Growth Area
According to a Merrill Lynch defense and aerospace report, U.S. defense spending recently entered a period of growth — and defense contracts will constitute up to 3.5 percent of America's gross domestic product for the next five years.
Many tech firms are already reporting that revenue from government contracts has grown dramatically. International Rectifier, a maker of advanced circuit devices for computing applications, last week conducted a dramatic conference call in which the company revealed that orders have increased 49 percent year-over-year, primarily due to military contracts.
"[International Rectifier's] power systems and advanced circuit devices were selected in 16 new defense programs for the F-35 Joint Strike Fighter aircraft, advanced satellites and electronic flight control systems," Tim Blair, a spokesperson for International Rectifier, told TechNewsWorld.
"Orders were up 36 percent in the December quarter, and management reported that orders were holding their own last quarter," he said. International Rectifier customers include General Dynamics, Lockheed Martin and BAE Systems.
Another firm, Artesia Technologies, a supplier of asset-management systems to AOL Time Warner and Sony, recently has seen its revenue from government contracts spike to 30 percent of its total revenue, up from 17 percent last year, spokesperson John Conley told TechNewsWorld.
"[Artesia's] technology is obviously well suited for the government," he said.
Homeland Defense
Merrill Lynch said in its report that homeland security could be a huge source of growth for companies and would attract a host of nontraditional competitors. This assessment also is proving to be accurate. For example, the Department of Homeland Security (DHS) has launched a technology program called the U.S. Visitor and Immigrant Status Indication Technology — or Visit.
This ambitious program seeks to collect, maintain and even share information about foreign nationals — including biometric identifiers like fingerprints and facial images — at airports and seaports by the end of 2003.
Vendors proposing involvement with the project — a Who's Who of the computer systems integration world — include GTSI and SAIC. Most interested vendors believe the procurement, worth US$380 million now, could be worth close to $1 billion by the time the project reaches complete implementation.
"U.S. Visit is all about identity," Brett Michaels, director of government operations for RSA Security, told TechNewsWorld. "What they're talking about is understanding who someone is — beyond a passport and a visa. What they're talking about is overhauling the entire system of access to the country and using new technology to change the way that work is done."
Project Scope
Details of the program have been sketchy, even after being announced in late April by Homeland Security Secretary Tom Ridge. But after a July vendor's meeting in Washington, D.C., a clearer picture of the scope of the program has begun to emerge. The system will use the information obtained about foreign nationals, specifically from those countries whose nationals need visas to enter the United States, to determine the following:
whether they need special protection as a refugee,
whether they should be prohibited from coming into the United States,
whether they have overstayed their visa, and
whether they should be allowed to adjust their immigration status.

Moreover, once in place, the program should ease travel for visitors with visas, who are coming to the United States for legitimate purposes. The program should bolster trade between the United States and developing nations, according to the DHS.

The program is technology intensive and calls for an incremental installation. When fully implemented, U.S. Visit will provide the information needed to account for all temporary foreign visitors to the United States and to keep out suspected criminals.

The Visit system alone will provide much-needed financial support for many security companies teetering on the edge of cutbacks and layoffs. "This program involves so many aspects of security, and IT security, specifically, is the enabler of its success," said RSA's Michaels.
Personal Visit
To be sure, computer companies always have kept a hand in government work, especially on scientific-computing projects for the CIA and the National Security Agency. But the money flow has definitely increased since September 11th. The industry seems to be seeking out the contracts with great fervor.
Other recent major deals include:
A $50 million project on high-performance computing and cryptanalysis funded by the Defense Advanced Research Projects Agency (DARPA) for Sun Microsystems.
A massive project with the Naval Postgraduate School and Lancope to develop intelligent network intrusion detection and data-visualization technologies.
A contract with Konarka Technologies, funded by the U.S. Army's Natick Soldier Center, to develop nanotechnologies and advanced polymers.
And a potential $2 billion contract between the U.S. Army and Tadpole Computing for 64-bit SPARC/Solaris Unix notebook computers.

For some contractors, however, the transition to government work will not necessarily be easy. A spokesperson for Tenix Datagate, a supplier of computers to the military, told TechNewsWorld that military customers have many special security requirements for networking technology and that products sold to the military must undergo a special evaluation process to make sure they meet the demanding specifications.
Easing the Transition
Many smaller companies do not have the resources needed to meet these requirements. The government, however, is striving to make the transition easier for smaller companies. The Central Intelligence Agency has a venture capital arm, called In-Q-Tel, that signed its first licensing extension this summer with Palo Alto, California-based Tacit, a collaborative technology maker.
The software made by Tacit makes it easier to search a database for valuable nuggets of information about suspects. Other CIA contracts are slated for signing with tech firms, providing financing for risky early-stage projects that may make private-sector venture capitalists hesitant.
Still, some analysts are skeptical about the future of firms that are only now seeking government work.
"Silicon Valley may strive to cash in on the military as a potentially life-saving source of business," Rich Baldwin, a spokesperson for Tenix, told TechNewsWorld. "But the shift won't be easy."