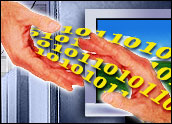 Software engineers at Microsoft's laboratory in Cambridge, England, have developed a new, proprietary peer-to-peer (P2P) technology that is being eyed by Hollywood producers as a potential distribution channel for their content.
Code-named "Avalanche," the product is said by Microsoft to be a safer alternative to BitTorrent, another P2P tool, as it divides digital files into smaller chunks, making it easier to download movies and music in the MP3 format.
According to Peter Key, director of the networking and systems group at Microsoft in the U.K., speaking during a recent "open day" at the company's facility in Cambridge, the so-called Silicon Valley of Europe, the technology reduces the bottlenecks inherent in most digital music and movie downloading systems.
Smaller Parts
Most such systems divide files into several, smaller parts, and compel users to wait for all the file parts to arrive from another user's PC, before reassembling them into a replica of the original file, he said. Sometimes, however, the users have to wait to receive the rare pieces of a MP3 file, and, if the line drops or there is some other interference with the downloading, the transfer may be incomplete.
Microsoft's Avalanche technology solves this problem by enclosing the entire digital film, or song, in each bit that is transferred — akin roughly to the way DNA in cells in the human body contains all the information about that person's hereditary makeup. Using a special mathematical formula called an algorithm, each encoded piece of the song or movie contains information about all of the other parts of the file, said Key. "Users don't have to collect every last piece in order to reassemble the whole," he said.
Microsoft has been testing the technology in Cambridge, distributing 4 GB files in about 24 hours. The process previously could take three times or more as long to accomplish.
"A given encoded piece can be used by any peer," said a research paper published by Microsoft.
This prototype differs dramatically from rivals' technology, as it does not rely on central servers, or trackers, to complete a file distribution. An Avalanche client on each PC shares the files among a network of users, and queries other hard drives to discern what content they desire. What's more, the technology prevents people from redistributing content that is copyrighted by incorporating a digital signature into each file, said Microsoft.
The technology is known as "network coding" technology by Microsoft.
Outside analysts, like Michael Thompson, of the UK's Butler Group, based in Hull, England, have called the technology "impressive," but concede that there are still security concerns that must be overcome by Microsoft before the industry will embrace the tool. Analysts wonder whether viruses or other malware could be sent, inadvertently, over the network, though Microsoft has assured them that is not a possibility.
Alternative Distribution
However, industry organizations, like the Motion Picture Association of America (MPAA), have been targeting sites that use BitTorrent, the rival P2P system used by many today, and threatening lawsuits. Members of the MPAA, Hollywood's leading producers, are looking for an alternative distribution tool that will enable them to market movies and music over the Internet, and obtain licensing fees for them. One producer, BBC, is said to be testing an interactive media player already.
Many believe Avalanche may be the solution, as it offers a way for producers to embed their "signature" in MP3 files. The technology is expected to be turned into a product soon.
Research from firms such as Envisional indicate that downloads of TV programming have increased by 150 percent in the last year alone, though most of the downloads are illegal.
Microsoft research claims that "By leveraging desktop PCs, Avalanche aids in the distribution process, relieving congested servers and network links from most of the traffic."