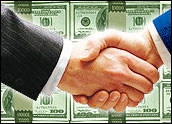 IBM will sell its "intellectual capital" to Honeywell in a 10-year deal worth an estimated US$250 million. Analysts said the agreement is a sign of things to come as well as a sound proposition for both companies.
"It's a great deal for IBM. IBM spends $5 billion in R&D a year and has generated 22,000 patents in the last decade alone. They need to maximize their return on R&D investments," Navi Radjou, vice president for enterprise applications at Forrester Research, told TechNewsWorld. "As a result, IBM has begun to connect their R&D staff directly with customers.
"For Honeywell it's a great deal because by outsourcing chip-invention to IBM, Honeywell can write off R&D assets from their balance sheet — and redirect resources to support their core competency: design and delivery of business solutions to aerospace clients."
What They Get
The agreement lends IBM's engineering expertise, technologies, research and development, and manufacturing processes and facilities to Honeywell's defense electronics business, the companies announced yesterday.
"The goal is to create highly competitive networking or computer gear to be used in spacecraft, aircraft and ships," IBM spokesperson Cary Ziter told TechNewsWorld. Part of the agreement calls for IBM's Engineering and Technology Services division to create versions of its Power Architecture microchips — which also run the supercomputer BlueJean — specifically for Honeywell.
The collaboration will design products to meet the needs of the Department of Defense, including networked weapons systems for use on battlefields.
Sign of Things To Come
That goal is one that stands to benefit both sides.
"This is paving the way for what Forrester calls 'Innovation Networks.' In essence, Innovation Networks is a new market structure or ecosystem where you don't need to invent to innovate," Radjou said. "Honeywell decided that they would be better off 'networking' with IBM — i.e., sourcing IBM's innovation capabilities — instead of inventing the chip in-house."
"Forrester expects more manufacturers to follow suit and outsource their innovation to third-parties like U.S.-based IBM and India-based Wipro. The result will be global innovation networks where companies like Honeywell tap into globally available talent and ideas."
Ziter said the deal gives IBM entree into the defense industry.
IBM last year signed a deal with Raytheon to work together to design custom semiconductors and systems for customers in the aerospace and defense industry.