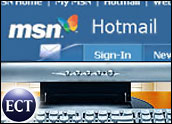 Microsoft, which has been rolling out expanded storage for its Hotmail customers, announced today that it would also add European and Japanese domain names.
The move has two purposes, Peter Christy, co-founder and principal analyst of NetsEdge in Los Altos, Calif., told TechNewsWorld.
"E-mail is the killer app. It always has been and always will be," Christy said. "They're all trying to be the touch point."
In order to compete with Google's Gmail, which launched in beta in April and provides 1 GB of storage, Microsoft had to upgrade. Adding European and Japanese domain names creates a new demand and a broad new range of potential e-mail addresses. This drives views to the site, which in turn puts ads in front of the e-mail users.
Storage Wars
Microsoft has already begun increasing free storage for existing email accounts to 250 MB. Now, new customers in the United States, Australia, Canada, France, Germany, Italy, Japan, Spain and Britain will receive that level of storage 30 days after opening their accounts.
"We created a storage waiting period to ensure that new accounts are used by qualified customers and are not being generated by spammers or malicious users," Microsoft vice-president Brian Arbogast said in a statement on Microsoft's Web site.
Yahoo announced Monday that it, too, would increase free storage for its email customers, from 100 MB to 250 MB.
Fraud Control
In addition, by controlling any domain name associated with Hotmail, Microsoft cuts down on the potential for fraud.
"Microsoft has realized that you need to be aggressive about defensively acquiring domain names," Christy said. "What a fraudster will do is buy hotmail.co.uk, and use it to commit fraud. But they can't if Microsoft owns it. Microsoft wants anyone making a reasonable mistake [in typing a domain name] to end up getting to a Microsoft product."
To kick off the availability of the new names, Microsoft will conduct a charity auction of what it believes will be the most sought after UK addresses. They include [email protected], [email protected], and many based on "Star Wars" characters such as Jedi, Luke Skywalker and Darth Vader.
The auction, with partner eBay, will benefit the UK National Society for the Prevention of Cruelty to Children (NSPCC).